Description
This building is now known as the Business Administration Building. It is an excellent example of the Collegiate Gothic style of architecture. The building has four stories with a brick facade that is enhanced by limestone detailing. The south entrance is the main entrance to the building and is distinguished by a projecting, battlemented bay with a frieze of coins. On either side of the projecting bay stand two large sculptures,
"Commerce" and "Industry."
The sculptures were crafted by Jules Struppeck, possibly the first sculpture student to graduate from the university. Anecdotally, these sculptures are often attributed to the WPA It may be that these sculptures represent the only known extant and in situ sculptures created for the F AP in Oklahoma. We found no conclusive evidence to support this claim, but suggest that further research is warranted. Also, above the west entrance to the building are two low-relief engravings titled "Petroleum" and "Mining." We suspect that these were designed by Joe Taylor, an art professor at OU who taught the first sculpture classes there and who may very well have been assisted by Struppeck.
The lobby of this building possesses seven murals that were designed and painted by Craig Sheppard, Jacobson's son-in-law. [1] Anecdotal evidence suggests that the panels were produced with support from the WPA/FAP, though additional research is needed to confirm this. The murals are signed by Sheppard and dated 1936, which would place them in the right time frame for FAP work; however, a review of the back issues of The Oklahoma Daily and Sooner Magazine did not find any articles specifically attributing them to the WPA.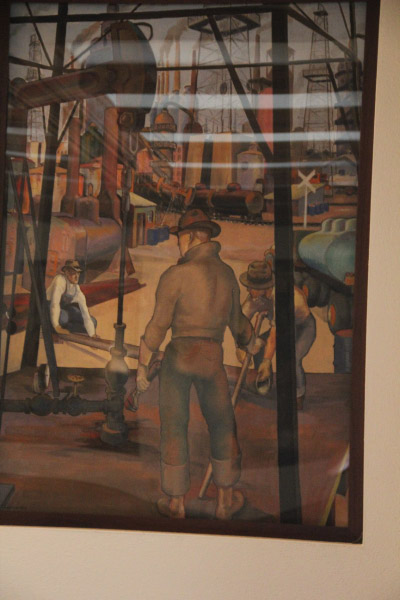 It seems that eight panels were originally produced. One of the panels is believed to have depicted slavery and may have hung in a faculty member's office. This information was provided by Leslie Baumert, Director of the Visitor Center at the University of Oklahoma. We were not able to locate this eighth panel.
Reflecting different aspects of Oklahoma Business life designed and painted by Craig Sheppard a fine arts student at the time, these murals "illustrate some of the prominent industries in Oklahoma's economy, including farming, stock raising, transportation, retailing, banking, oil, mining, and smelting."[2]  These murals hang in the first floor lobby, just past the south entrance, were restored 2011 by OU Alumni Don T. and Carolyn T. Zachritz of Oklahoma, bringing the murals back to their original splendor.[3]
Sources
Thematic Survey of New Deal Era Public Art in Oklahoma 2003-2004, Project Number: 03-401 (Department of Geography, Oklahoma State University).