Description:
Administrative Offices, Hugo School System
208 N. Second Street
Hugo, OK
The Red Man of Oklahoma Sees the First Stage Coach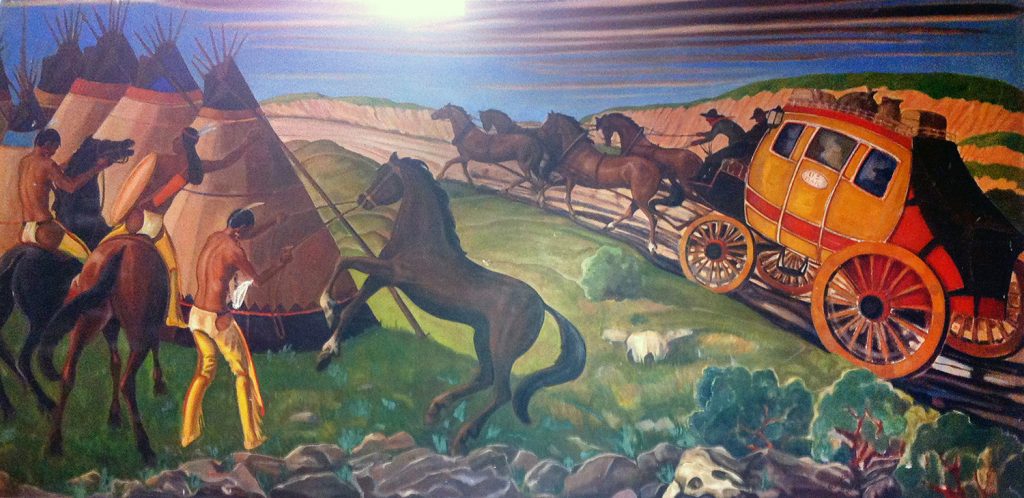 by Joseph A. Fleck, 1937,(oil on canvas).
The original location for this mural was in the old post office in Hugo. It is likely that the mural was moved into the Administrative Offices of the Hugo School System when the post office moved into its new building. It is not recommended for further study at this time because it is not in situ. It was also commissioned by the Section.
John A. Fleck painted the mural "Choctaw Indians See the First Mail Coach" in 1938 for the Treasury Section of Fine Arts. The mural was painted for what was then the Hugo post office, now resides in the Hugo School Administration Office.
Sources:
Oklahoma Landmarks Inventory Nomination
Originally posted in the New Deal Art Registry: http://www.newdealartregistry.org/
Thematic Survey of New Deal Era Public Art in Oklahoma 2003-2004, Project Number: 03-401 (Department of Geography, Oklahoma State University)
Photos: