Description
This buff-brick clad government building is designed in the Federal Revival style. It is a single-story building with a hipped roof, basement, and two interior chimneys. Semi-elliptical arches over the windows and doors give modest artistic flair to an otherwise simple building. Decorative brickwork along the cornice line creates the effect of dentils. This dentilled pattern is echoed on a smaller scale at the tops of the pilasters that mark the wall space between the windows.
Prairie Fire, a mural by Ethel Magafan, decorates the west interior wall. Magafan designed and painted this mural for the Section. Both the post office and the mural are in very good condition and warrant further study in order to determine their eligibility for possible listing in the National Register.
Prairie Fire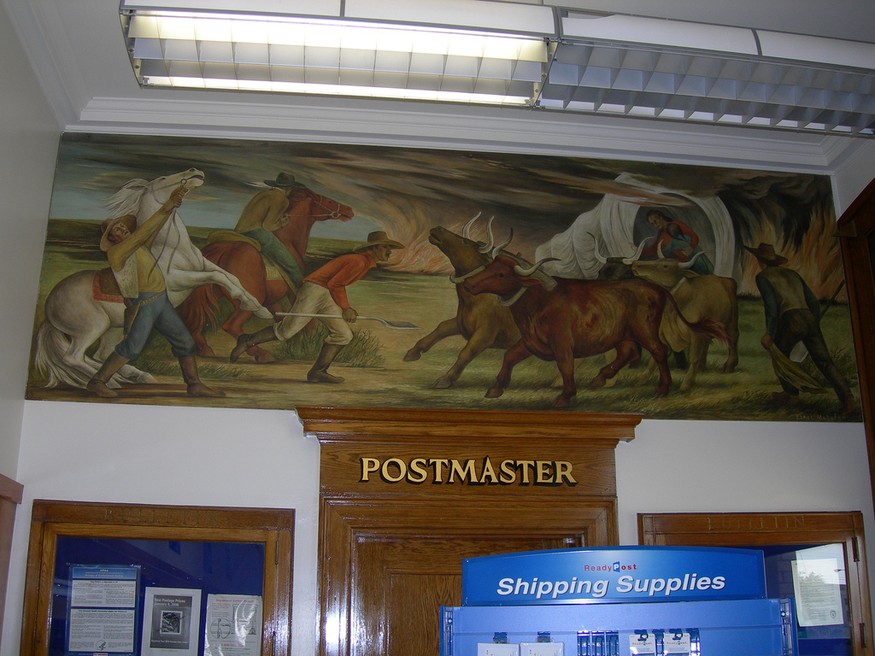 by Ethel Magafan, 1940, tempera on canvas.
Ethel received the commission for Madill in November 1939 but only chose her subject, Prairie Fire, after consulting with the residents of Madill. She completed the mural at her Colorado Springs studio, but personally installed it in the Madill post office. Madill lies in the midst of the Oklahoma prairies, which experienced untold numbers of prairie fires in its prehistory. In the nineteenth century, both artists and the popular press had reacted to stories of prairie fires with fascination. The fires often reached staggering proportions and destroyed huge tracts of land. Magafan attempts to capture the terror and sublime beauty of the fire by depicting a small band of pioneers attempting to escape the approaching blaze. As one group tries to quiet the frightened oxen, two others prepare to create an earthen break to slow the fire's progress. The inspiration for the mural arose in part from her earlier study for Lawrence, Kansas. Ethel recalled that she wanted a "historical subject," and the massive nineteenth century prairie fires offered another opportunity to explore sensational themes: "I was back to something violent again, but I thought it was very exciting material and I enjoyed doing that mural tremendously."3 Both the stylized flames and the horse and rider at left compare closely to Magafan's aborted Lawrence mural. Her desire to recapture the intensity of the Lawrence composition prompted her originally to place the fire too close to the pioneers until the Section of Fine Arts protested that the scene seemed unconvincing.
Despite the Section's reservations about the composition, they celebrated Magafan's stylistic approach. Both the simplified approach to form and the expressive coloration of her style enjoyed great popularity in the 1930s during the ascendancy of the American Scene. It was undoubtedly this formal approach that earned Magafan her numerous mural commissions during the 1930s and 1940s.
Sources
Thematic Survey of New Deal Era Public Art in Oklahoma 2003-2004, Project Number: 03-401 (Department of Geography, Oklahoma State University)
Magafan quoted in Joseph Trovato, interview with Ethel Magafan, 5 November 1964, Ethel Magafan papers, Archives of American Art, reel 3949, frame 765.