Description
This is a very modest one story Art Deco style building. The facade is symmetrical around the main entry which is slightly recessed. The doors and windows on the front are accentuated by the use of recessed or beveled brickwork. A continuous limestone lintel course encircles the building. A narrow band of slightly projecting limestone coping also circles the building and marks the tops of the walls.
With a commission from the Section, Theodore Van Soelen designed and painted the mural on the interior west wall. The mural is a relatively uncommon example of a landscape that is entirely devoid of people as well as any evidence of human habitation or settlement. For this reason the mural and the post office merit further study.
Canadian Honkers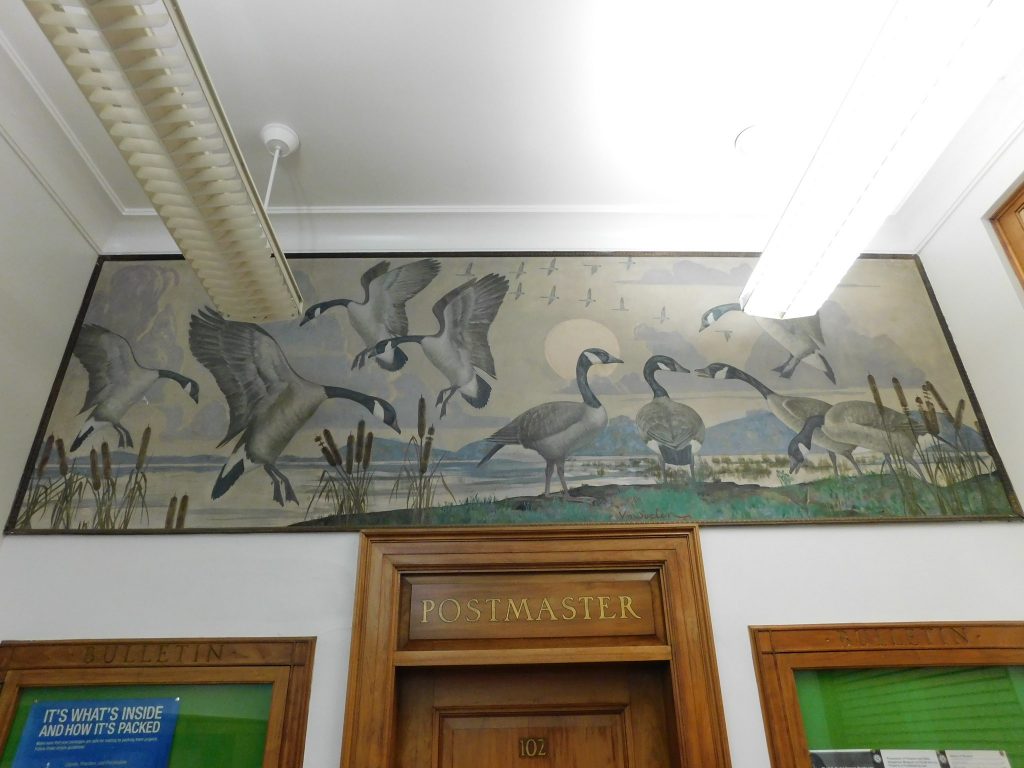 by Theodore Van Soelen, 1939, oil on canvas.
Van Soelen's mural for the Waurika, Oklahoma post office, Canadian Honkers,speaks to both his artistic interests in wildlife and the local character of the town, since nearby Waurika Lake lies in the flight path of migratory birds. The artist portrays the geese at rest and in flight against what seems to be the shoreline marshes of the local lake. However, it is doubtful that Van Soelen ever visited Waurika, as he made most of the mural sketches in Tesuque then completed the mural in Cornwall, Connecticut.
Sources