Description
This is a one-story, flat-roofed, brick government building designed in the Colonial Revival style. Very wide stone lintels draw attention to the multi-pane windows. This pattern is matched by a wide panel of stone that marks the entrance. A narrow course of stone coping encircles the building at the tops of the walls.
This building is potentially eligible for listing in the National Register because of its association with New Deal art and the renowned American painter, Oscar Berninghaus. He painted the mural, Terminus of the Railroad, for the interior west wall of the post office as a result of his winning a Section commission. The significance of this work sterns from the fact that it constitutes a rare example of a Berninghaus mural. By depicting the railroad Berninghaus selected a "classic" theme that not only resonates with the local history of Weatherford, but also much of the history of the state.
Terminus of the Railroad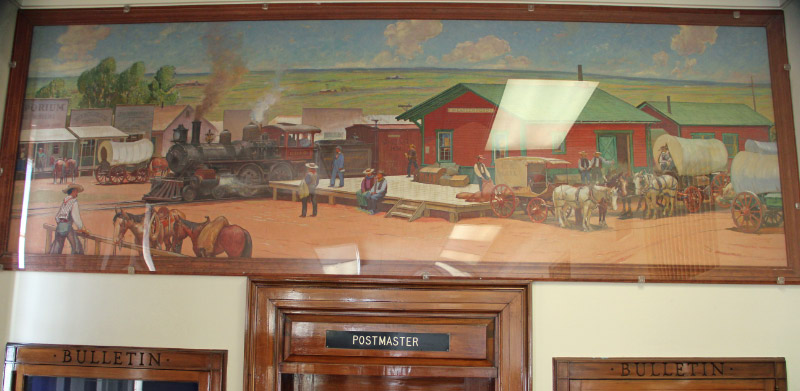 by Oscar E. Beminghaus, 1939. oil on canvas.6
Thematically, Terminus of the Railroad creates a soothing image of past prosperity and progress for southern Oklahomans suffering from the lingering economic woes of the Great Depression. The mural depicts the station at the terminus of the Choctaw, Oklahoma and Gulf Railroad as the hub of economic and social development; the storefronts along the main thoroughfare, which advertise dry goods and other commodities, and the number of wagons that have come to load goods onto and from the railcars indicate a growing economic infrastructure and technological progress. This image of civic development is enhanced by other signs of development, particularly the mail loaded onto the U. S. postal wagon and the telegraph pole barely visible behind train station. Beminghaus accentuates this progressive image of territorial Weatherford with the contrast of both the cowboy at lower left and the Cheyenne and Arapaho (a nod to the artist's fondness for Native American subjects) that sparsely populate the empty, limitless plain. Although Oklahoma's frontier romance of cowboys and Indians proved irresistible, Berninghaus suggests that this lingering past will soon be displaced by modernization. As such, Terminus of the Railroad served as a wistful image of local history but also as a reminder of Weatherford's civic growth in a decade beset by economic and social turmoil.
Sources
Thematic Survey of New Deal Era Public Art in Oklahoma 2003-2004, Project Number: 03-401 (Department of Geography, Oklahoma State University).