Description
This is a one-story Art Deco style building with brick cladding and a basement. The brick cladding is laid in courses of stretcher bond, except for every sixth course which consists of header bond. Three courses of increasingly wider bands of limestone encircle the building at the top of the walls, at the base of what would be the entablature, and at the base of the first level. Limestone panels above and below the windows that flank the entrance contrast with the brick cladding elsewhere on the building. Stylized cartouches also decorate the limestone above the windows and door.
On the interior east wall of the post office is the mural, Historical Background of Wewoka, painted by Marjorie Clarke for the Section in 1941. This post office is considered a contributing resource to the Wewoka Commercial District, which may be eligible for listing as a historic district. If such a recommendation goes forward, the association of the post office with New Deal art should be included as part of the rationale and discussion of significance.
Historical Background of Wewoka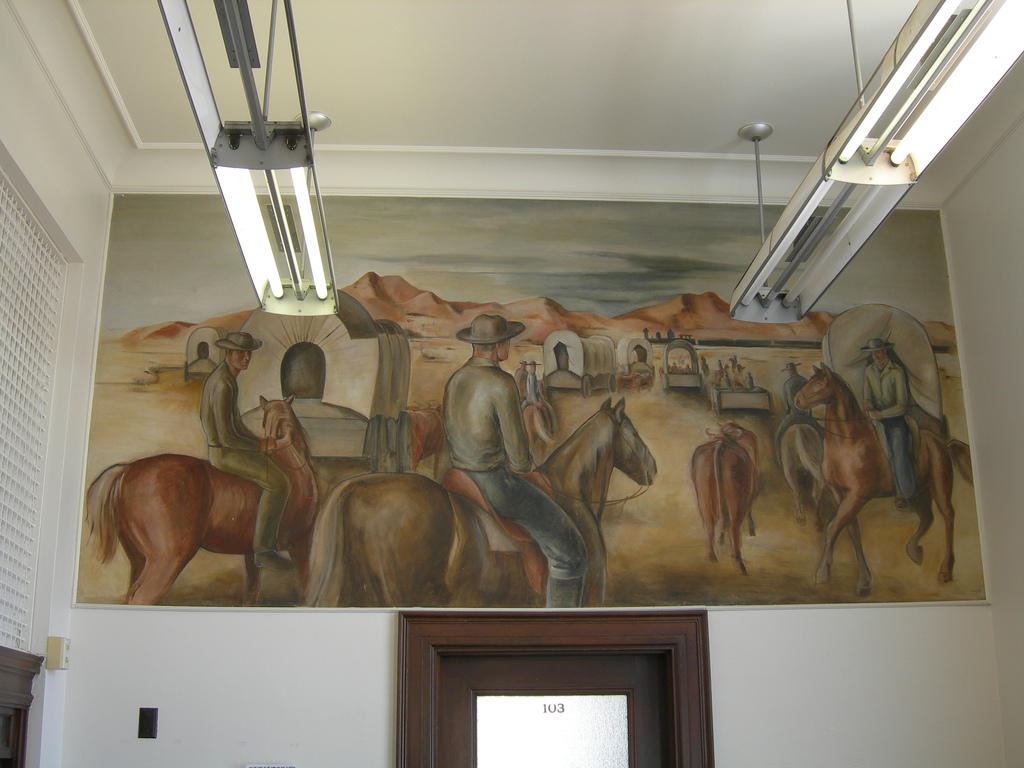 by Marjorie Rowland Clarke, 1941, oil on canvas.
Clarke received the award of the Wewoka mural based on sketches submitted to the Section of Fine Arts. Wewoka had been the capital of the Seminole Nation since 1855 and had been named for a small waterfall nearby. Although Wewoka lies in the middle of the Seminole Nation, Clarke chose a less specific image of local history by depicting a long wagon train proceeding towards a steaming train and a distant mountain range. It is probable that the artist, a Maryland native, had little knowledge of this area of Oklahoma or its history, and the image was based on traditional images of westward expansion. Both the wagon train and the locomotive were common themes in the history of
American art, and the combination of the two often indicated an embrace of Manifest Destiny, the nineteenth-century belief that American expansion across the continent was ordained. In this regard, Clarke's image could have been easily applied to multiple towns in the West. Clarke painted the imagery in a fairly descriptive manner and in subdued earth tonalities, which also indicates a western setting.
Sources
Thematic Survey of New Deal Era Public Art in Oklahoma 2003-2004, Project Number: 03-401 (Department of Geography, Oklahoma State University)
Peter Benningham, The New Deal in the Southwest University of Arizona Museum of Art, Tucson, Jan. 18-Feb 15, n.p.
National Archives: Record Group 121-BS: Records of the Public Buildings Service:Completion views of federal buildings (prints) alphabetically by state and thereunder by city, to 1966; Box 73.