Description
This is a one-story, brick clad government building with a flat roof and basement. Designed in the Art Deco style, it has low-relief carvings of a train, plane, and boat in the limestone over the door and flanking windows. Continuous limestone sill and string courses encircle the building. Recessed brickwork marks the door and window surrounds.
The mural, Osages, by Olive Rush decorates the interior west wall. It, like many of the other post office murals, was the result of a commission by the Section. The mural warrants further research to determine the extent to which it is based on local history.
Osages (Treaties- Osage Indians)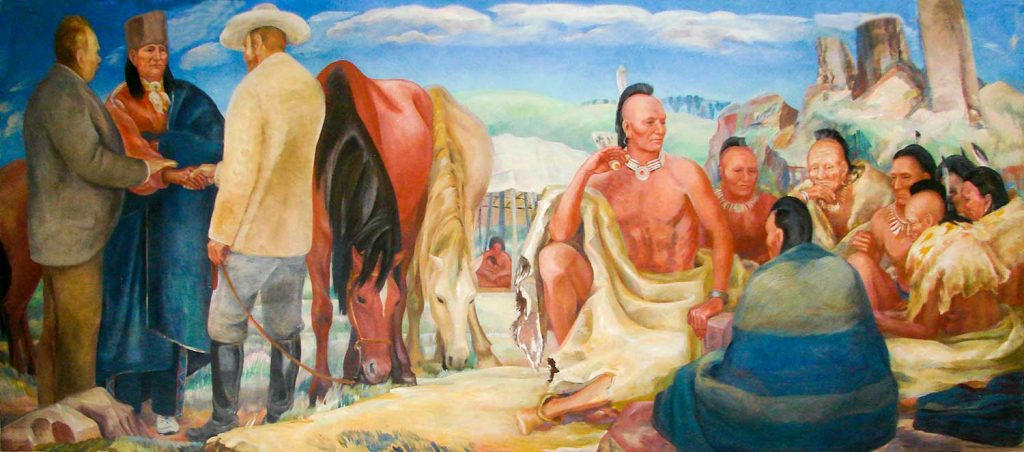 by Olive Rush, 1938, oil on canvas.
The Treasury Department officially offered Rush the Pawhuska mural on 22 July 1937 based on the merit of her previous submissions. Rush then visited Pawhuska personally and after conversations with local citizens she chose her subject matter as Osage history.[2] The title of her mural is often listed simply as Osages; however, a personal photograph offers the more descriptive title of Treaties- Osage Indians. The image probably depicts two separate events in the formation of the modem Osage Nation. In the lower right, Osage leaders convene the constitutional convention, an important development in the history of the tribe and Pawhuska, while in the upper left, James Bigheart, a full-blood chief of the Big Beaver band, petitions Osage agent Major Laban J. Miles for a formal tribal government. General approval among the tribe and the American government in 1881 then led to a constitutional convention presided by Bigheart. Pawhuska, as a result, became the capital of the Osage Nation.
This interpretation of the two scenes is probable, although not certain as Rush did not record her intent. The only verification may be found in a contemporary press clipping that lists Miles among the figures. The article also suggests that the Osage leader on the far left is strikingly similar in appearance to Bacon Rind, a popular Osage chief of the early twentieth century. It is possible that Rush relied on photographs of popular leaders in creating her image of late nineteenth-century Osage politics. If Rush did rely on Bacon Rind's likeness in her mural, then she would have offered Pawhuska residents a compelling image of a local celebrity and a celebration of their local history.
Sources
Thematic Survey of New Deal Era Public Art in Oklahoma 2003-2004, Project Number: 03-401 (Department of Geography, Oklahoma State University)
Edward B. Rohan to Olive Rush, 15 December 1937. Olive Rush Papers, Archives of American Art, reel 1628, frame 627.