Broken Bow, Oklahoma
Copied from Oklahoma District Civilian Conservation Corps Pictorial Review, 1938, page 83:
On the morning of June 19, 1933, a weary crew of sturdy Oklahoma boys arrived in Broken Bow, with the State's prize game refuge as their goal. The company arrived in very good physical shape, considering the fact that they had traveled 400 miles since leaving Fort Sill. An advance guard had already arrived in Broken Bow, and had breakfast ready to serve when the special train rolled in.
The trip from Broken Bow to the Game Preserve, one of the most dangerous in the entire state, will long be remembered by the men who first trekked the 33 miles. On several occasions the men were forced to get on one side of the trucks so they would be balanced, for the road was practically impassable from Highway 21 to the camp site. COMPANY 1808 Broken Bow, Oklahoma
A temporary camp site had already been selected by Captain William Fisk, and on arrival of the company one of the fastest tent pitching exhibitions was demonstrated to a delegation of local people who were on hand.
The first Army personnel was comprised of: Captain William Fisk, of the Ninth Infantry, a highly decorated army man during the World War; Lieutenant Newton W. Jones, Field Artillery, of Muskogee, who was a former football coach, and who immediately became a favorite of the men; Corporal Geo. M. Stewart, of Fort Clark, Texas, Supply Sergeant; Samuel H. Neal, of Fort Francis E. Warren, Wyoming; Private Black, of Fort Sam Houston, Texas, Head Cook; John W. Barnett, of Fort Sam Houston, Texas, First Sergeant; and John R. Little, of Oklahoma City, as Company Doctor.
Many worthwhile projects were completed during their administration, among them the construction of a bridge across Mountain Fork River—one of the most beautiful in Southeastern Oklahoma, and a road from the highway to camp.
Succeeding Captain Fisk was Captain Carl Edmonds, of the 359th Infantry, who at once became a favorite with the men. The company had grown until the total reached 200. Captain Bishop also was sent here, but was Transferred to duty as commanding officer of the Pine Valley Camp. Lieutenant John W. Primrose was later assigned to duty here.
The Regular Army Non-Commissioned Officers were succeeded by regular CCC members, and under the tutelage of Captain Edmonds have successfully handled the jobs as well as any "Regular". First Lieutenant Henry F. Taylor, 380th Infantry, relieved Lieutenant Primrose in March of this year. Many activities have been sponsored by Lieutenant Taylor, and he also has proved to be the best Mess Officer on our company records.
Many athletic sports are indulged in by the men in the company. A good basketball record was made during the past season. Baseball is also liked, and recently the company has been able to play at its own camp. The State Game Commission graciously gave us extra ground on which to build a playing field. Boxing has also proved very popular. The Oklahoma Forest Service men are to be commended for the many fine projects they have completed. Foresters on duty here are: L. M. Reid, Camp Superintendent; Louis Poulin, Jr., Assistant; and T. J. Matthews and Fred White, Head Foremen.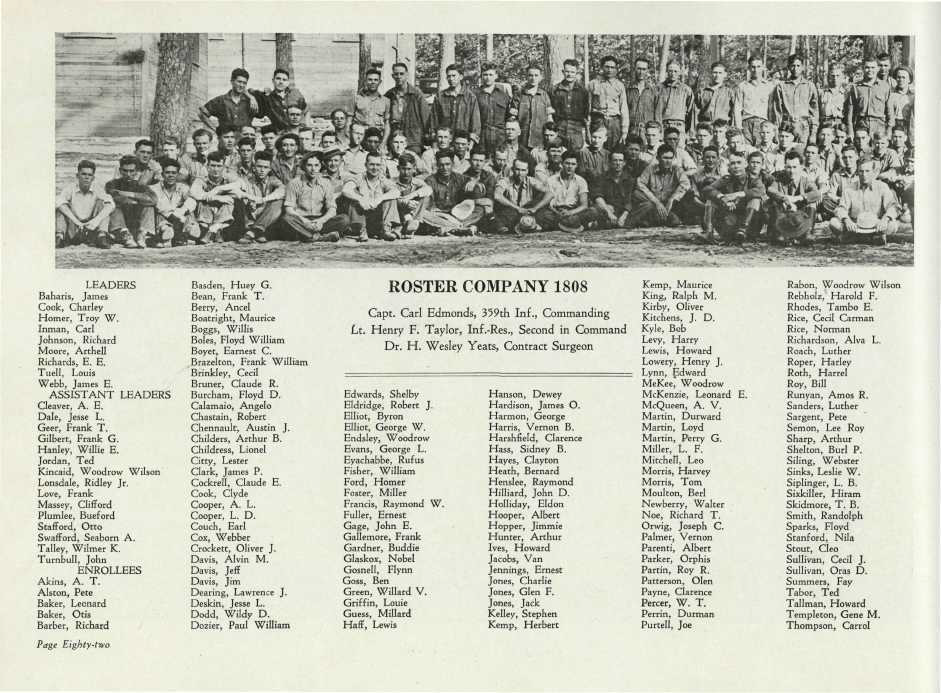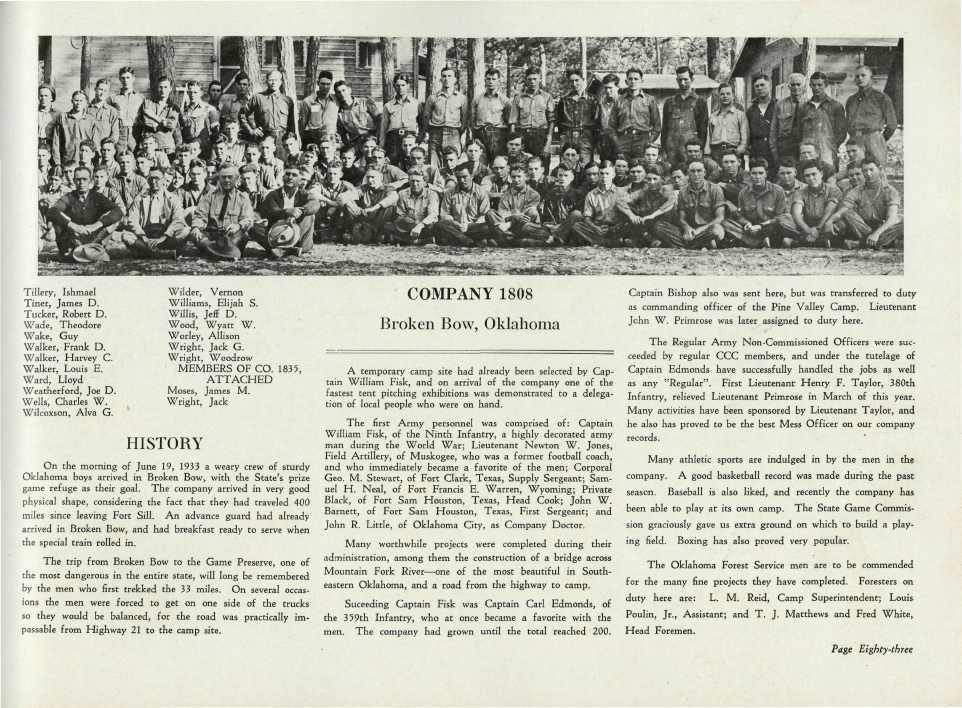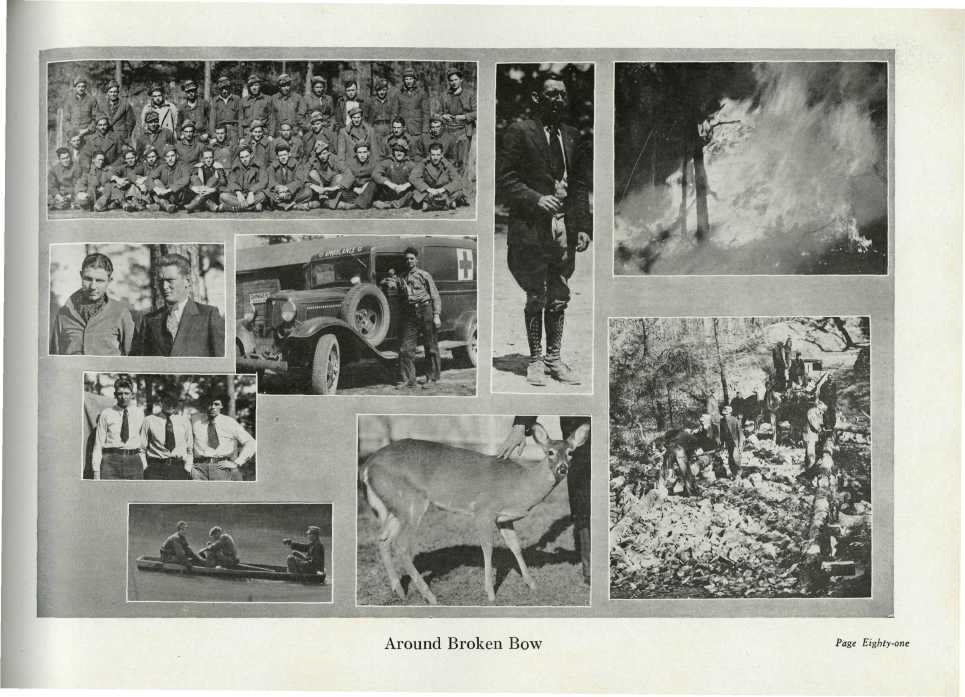 Sources
Oklahoma District Civilian Conservation Corps Pictorial Review, 1938, pages 81-83.