Wilburton, Oklahoma
Copied from Oklahoma District Civilian Conservation Corps Pictorial Review, 1938, page 101:
The Veterans Company 1825 of CCC was organized at Fort Sill, Oklahoma on June 22, 1933, under the command of Captain Daniel F. Jones of the Field Artillery, and removed to Camp S-55-O, at Wilburton, Oklahoma on July 11 of the same year.
Company 1825's permanent camp, which is located eight miles north of Wilburton along State Highway 42 in the Wilburton State Game Preserve (5,000 acres), was built under the direction and supervision of Captain Daniel F. Jones (Commanding Officer), Captain H. H. Grossett of the First Field Artillery, Captain Linus Walker of the Infantry Reserves, Lieutenant Walter H. Verity, also of the Infantry Reserves, and Lieutenant Knox Dunlap of the Medical Reserves; the permanent camp was occupied July 27, 1933.
Captain Grossett assumed command on September 1, 1933, and was relieved of his command on December 10 by Captain I. L. Thomson, And on December 20 Lieutenant Dunlap was relieved by Captain Mortimer W. Coke, of the Medical Reserves, who was in turn relieved March 31, 1934 by Contract Physician Ernest E. Howerton. Lieutenant Verity was relieved by Captain Richard Battle on March 17, 1934.
The camp was rated second in the Oklahoma District in the contest conducted by the Army and Navy Journal for the second period which terminated April 1, 1934.
Throughout its history the company has worked under the State Forestry Department whose local Superintendent is Mr. Georqe M. Brown.
Company 1825 is an all-veteran camp. It has two Spanish- American War veterans and veterans of all the major battles of the World War. One hundred and forty of the company members are married, having among them the fathers of four hundred and ten children. The Drewery F. Pruitt Post of the American Legion with over fifty active members is entirely a Company 1825 organization.
The State Boy Scout Camp is within the Wilburton Preserve and has been a major work project for the company. Fourche Moline Creek flows through the Preserve and has been the object of many of the Forestry Department's works. Twenty-four dams have been constructed on the creek ro prevent floods and to increase the volume of fishing water. A portion of the Preserve has been planted with pine seedlings and a watch tower seventy feet high has been built on a mountain peak for fire control purposes.
A work project of major importance has been begun by Company 1825: a dam on Fourche Moline Creek at a point six miles north of Wilburton which will create an eighty acre lake with a maximum depth of thirty feet, and which will rest at the foot of a four hundred foot sheer stone cliff—a feature in the San Bois Mountains.
Company 1825 operates a complete laundry and does the weekly wash for all company members. It operates a modern barber shop with regular qualified barbers who care for all the company members. The camp exchange performs the customary functions of such institutions. A complete water supply system supplies the camp with water from the famous "Iron Springs" which are located a mile from the camp. Company 1825 operates its own electric light plant and its own telephone system.
Company 1825's present staff: Captain I. L. Thomson, Commanding Officer; Captain Richard Battle; Dr. E. E. Howerton, Camp Surgeon; George M. Brown, Forestry Superintendent.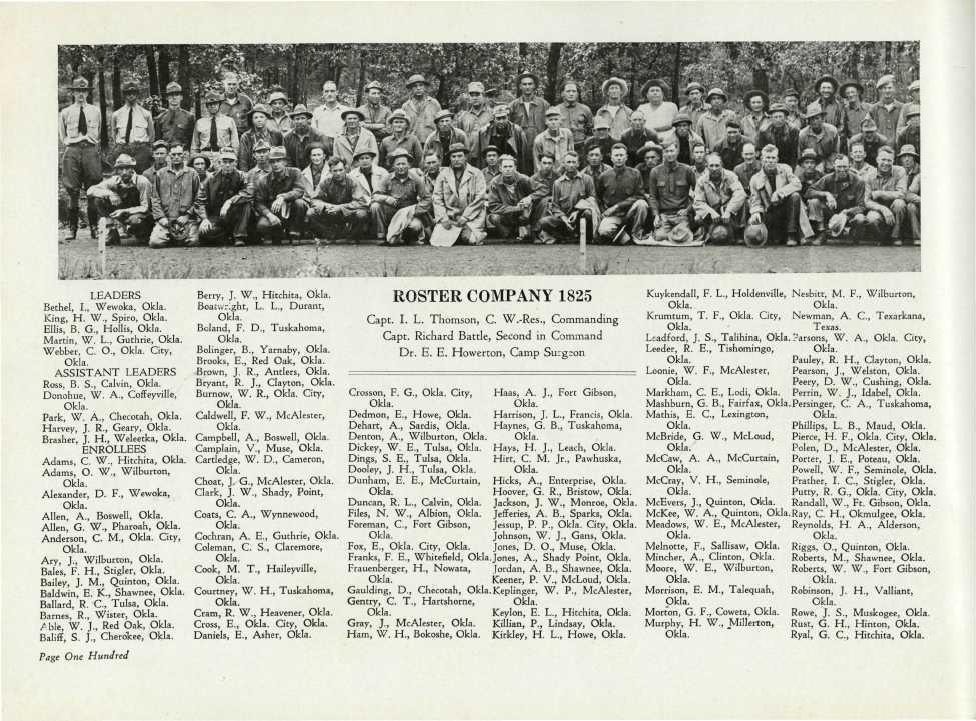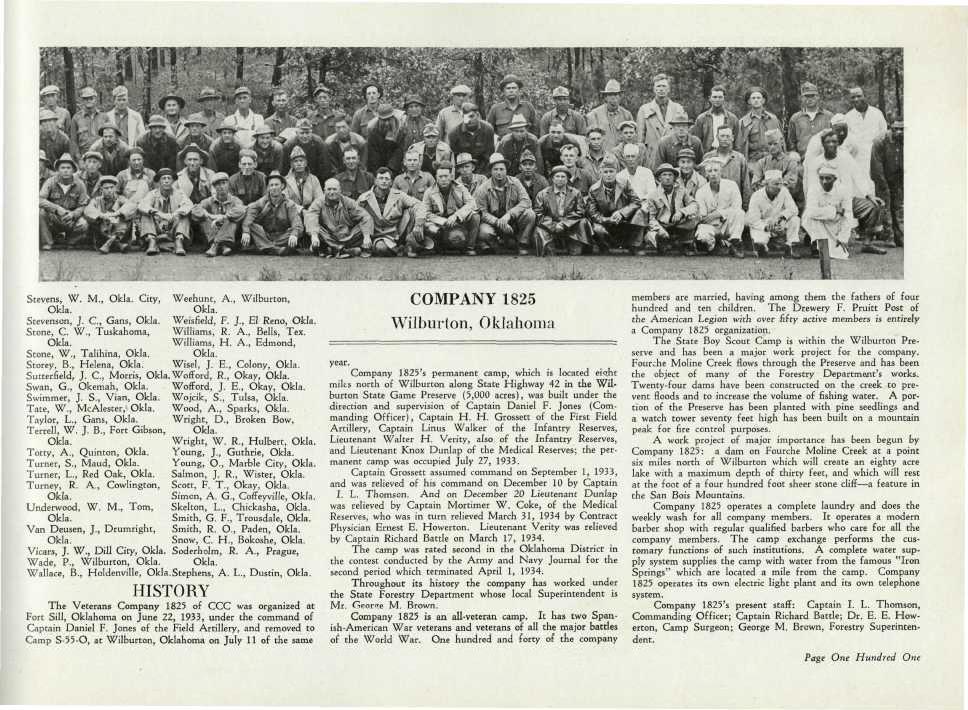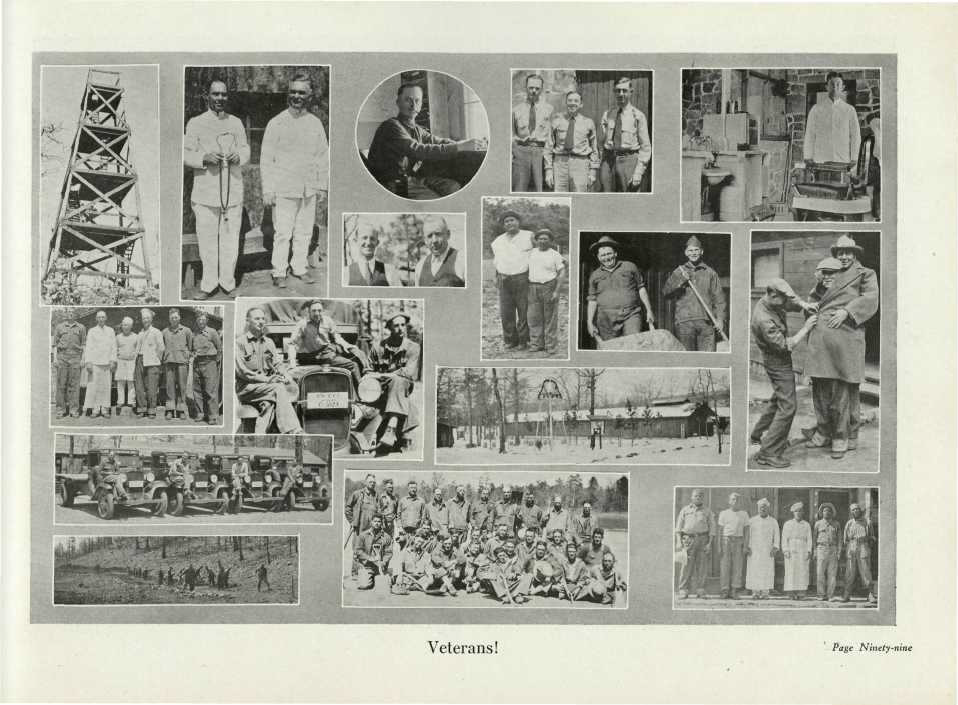 Sources
Oklahoma District Civilian Conservation Corps Pictorial Review, 1938, pages 99-101.