Sulphur, Oklahoma
Copied from Oklahoma District Civilian Conservation Corps, 1938, page 29:
Company 808, Oklahoma CCC District, was organized at Fort Sill, Oklahoma, April 27, 193, from the old "A" Company, commanded by Fred W. Adams, Captain 38th Infantry. On May 15 orders were received for all Oklahoma men in this company to entrain for Sulphur, Oklahoma. One hundred and seventy-five men were packed and ready to leave when new orders were received cutting the strength down to fifty-five men who were to proceed as previously directed.
The company arrived at Sulphur May 16 and went into camp five hundred yards south of the Soldiers' State Hospital. The organization included Captain Fred W. Adams as Commanding Officer; Captain R.O. Bradley, Engineer Reserves; First Lieutenant J.A. Bain, Medical Reserves; and four regular army men from the 38th Infantry: Sergeant W.L. Stinson, First Sergeant of the Company, Sergeant Fissenger, Corporal Fogleman, and Private Eddie Crowson.
The first night in camp a near tragedy occurred. More than fifty men became violently ill from food poisoning but were recovered by morning and proceeded to set up a model tent city on the camp-site. New enrollees came from the nearby towns and countryside, so the full strength of two hundred men was promptly reached.
On June 19 Dr. Donald D. Eggleston was engaged as part time Contract Physician. Sergeant Stinson was relieved on July 6 and Corporal Fogleman became First Sergeant. On July 1 twenty-six enrollees were appointed Leaders and Assistant Leaders with corresponding increases in pay. Work in the Platt National Park progressed under the able supervision of Mr. W.M. Branch, Park Superintendent, Mr. W.D. Popham, Landscape Artist and Consulting Engineer, and Mr. W.L. Scott, Camp Work Overseer. Excellent cooperation between the Army and Technical Service has existed from the beginning of the camp and has made possible one of the best organizations in the entire Civilian Conservation Corps.
Athletics were popular with the men from the start and a good baseball team was soon formed. Later football equipment was procured from Post Exchange earnings and many games were played.
The morale of the camp was so good that only a few men accepted discharge at the end of the first enrollment period, October 1, 1933.
Captain Paul M. Brewer, Engineer Reserves, reported for duty July 24, but on October 10, Captain Brewer was transferred to Fort Sill and Lieutenant Bain was assigned to Company 1806. Captain Ray H. Dobbins, Engineer Reserves, was assigned to Company 808 for duty on September 19. A contract was let to the Lowe Construction Company to build wooden barracks at a new camp site situated on the edge of the town of Sulphur and in the heart of the park. The new buildings were ready for occupancy by November 10, and the move into them completed in one day. Everyone was pleased with their new home which provided all modern conveniences and was within walking distance of the town of Sulphur.
On October 23, Second Lieutenant Scott Jones, Infantry Reserves, reported for duty at Company 808. The regular army enlisted men on duty with the company were relieved on December 15. On this date, also, Captain Adams became Sub-District Commander of Sub-District "E" with headquarters at Company 808, and Captain Ray H. Dobbins became the Company Commander. Enrollee Fred L. Huff was made First Sergeant January 1.
On February 1, Dr. Eggleston left CCC work for private practice and Contract Physician J.D. Winter reported for duty. On April 15, Lieutenant Robert N. Skaggs, Infantry Reserves, was assigned to Company 808 for duty and on April 22 Lieutenant Scott Jones was relieved from active duty. The entire group of original enrollees will be discharged June 30 having enjoyed a very pleasant and profitable twelve months in the "tree army".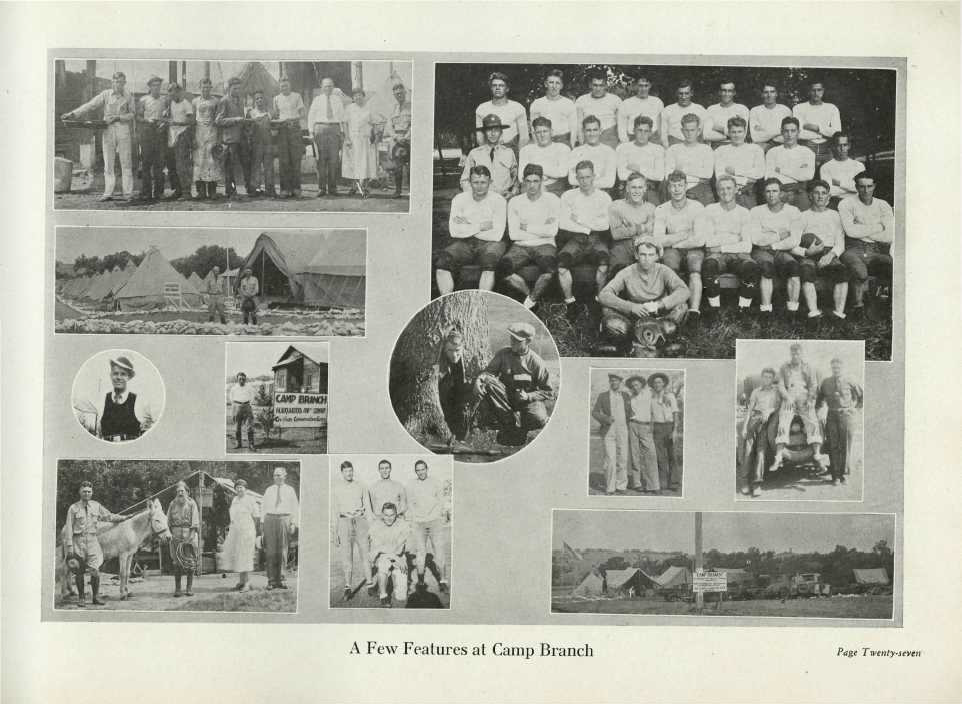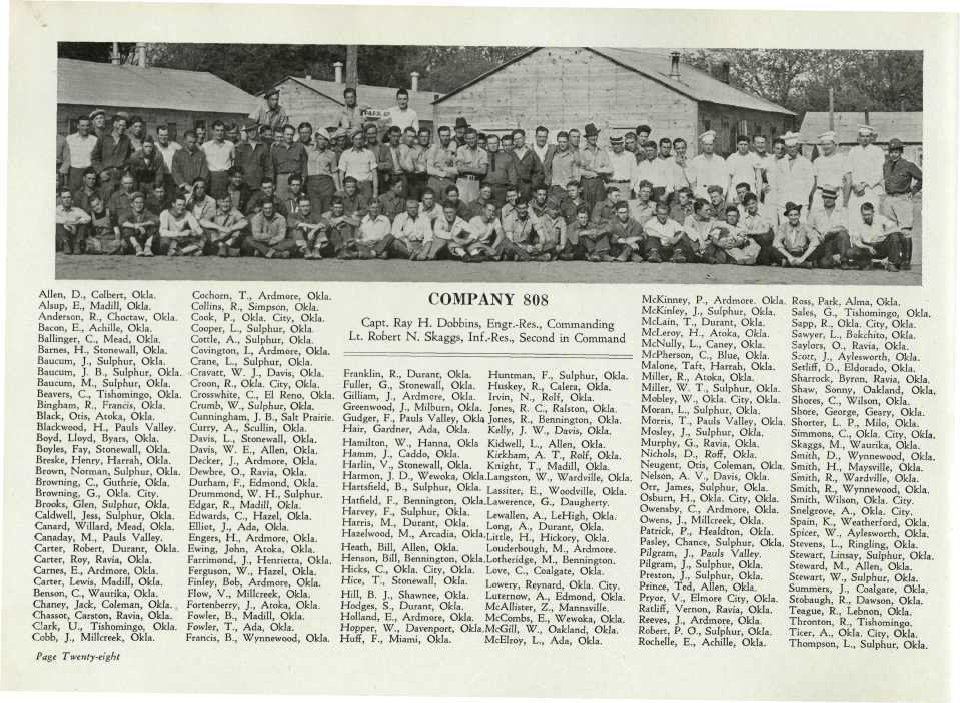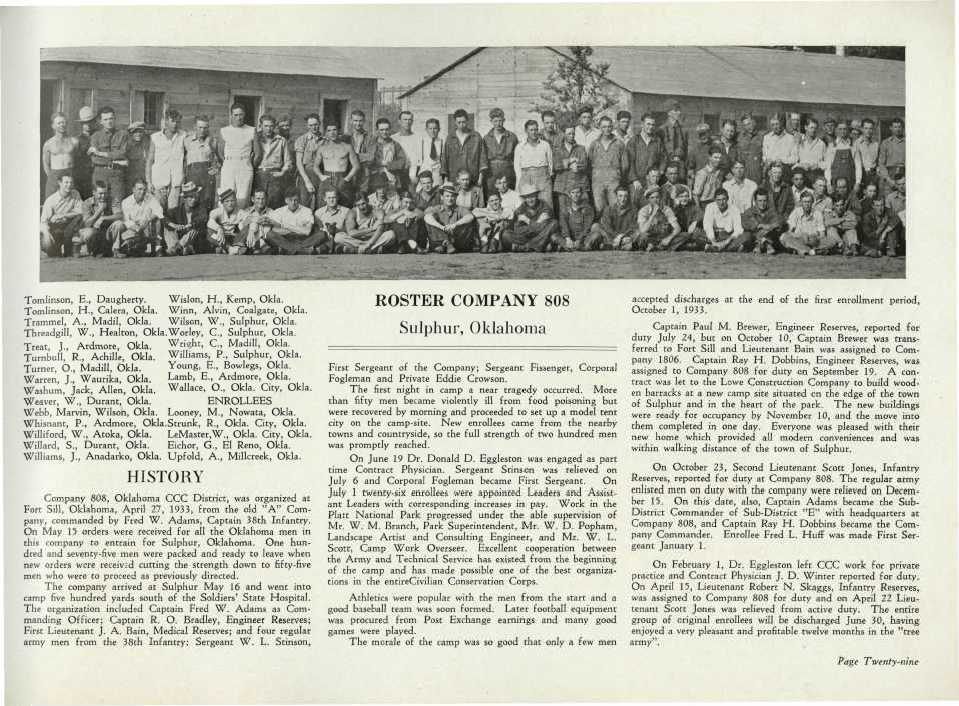 Sources
Oklahoma District Civilian Conservation Corps Pictorial Review, 1938 pages 27-29.