Cache, Oklahoma
Copied from Oklahoma District Civilian Conservation Corps Pictorial Review, 1938, page 55:
Company 859 was organized May 22, 1933, with Lieutenant O. L. McDaniel of the 18th Field Artillery as commanding officer; Lieutenant C. R. Hutchison, First Field Artillery, as Mess officer, and Lieutenant J. C. Montgomery, Medical Reserves, as surgeon. Sergeant Alva Latimer, Corporals W. L. White and Albert Benedict and Private E. F. Carter assisted in establishing the camp.
The company entrained for Dillon, Colorado on May 29, 1933, with 167 enrollees. The company arrived at Dillon May 30, and established camp in Keystone Gulch, six miles east of Dillon.
Albert E. Moody of Denver, Colorado, the camp superintendent, took charge of the men June 9 and started work on timber stand improvement. Another important project was the roadside cleanup of Loveland Pass Highway—work continued on this project until the middle of October.
On August 8, Lieutenant Hutchison was transferred from the command and Lieutenant P. D. Cooley took over the duties of the mess officer. Lieutenant Cooley was relieved in October by Lieutenant W. A. McPherson.
Captain R. E. Hanson was assigned to the camp on September 27; he took command December 10.
On November 15, 1933, the company entrained for Cache, Oklahoma, where, on arrival, it occupied Camp F-5-O in the Wichita National Forest and Game Re-serve.
The work in this camp consisted of timber stand improvement, Buffalo corrals, boundary fences and the Wild Horse Dam, recently completed.
Company 859 has had exceptional success with their athletic program; they were undefeated in baseball in the Colorado District and have defeated every CCC team in matched games in basketball in the Oklahoma District.
Of the 167 men who joined Company 859 last May, 59 remain. All are anxiously awaiting the return to Colorado, where the Company will occupy Camp F-8-C at Tabernash.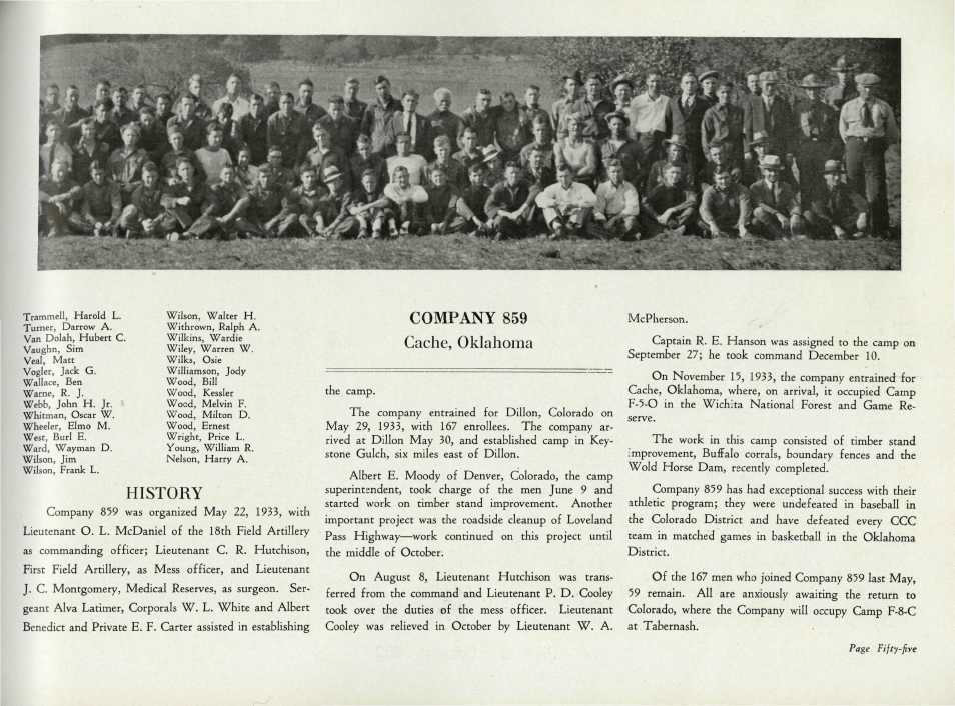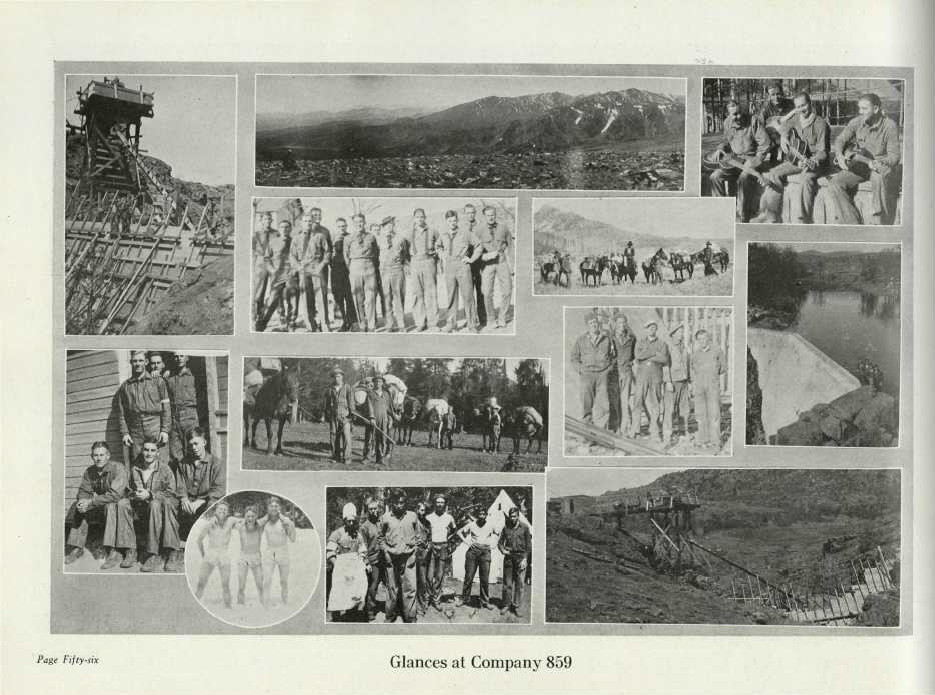 Sources
Oklahoma District Civilian Conservation Corps Pictorial Review, 1938, pages 54-56.