Oklahoma City, Oklahoma
Copied from Oklahoma District Civilian Conservation Corps Pictorial Review, 1938, page 85:
Company 875, CCC, was organized on May 26, 1933 at Fort Sill, Oklahoma, and was kept in a conditioning camp from May 26 to May 31. The company was then moved to Lander, Wyoming under the command of W. B. Wilson, Captain, Infantry, and F. A. Granholm, First Lieutenant, F. A. The total company strength at that time was one hundred and seventy-five.
The company arrived in Lander on June 2 and from there proceeded to Camp F-9-W in the beautiful Ouachita Park, eleven miles southwest of Lander, which was occupied during the summer of 1933. The camp site was admirably located by the side of a stream between two lofty mountain ranges.
The company was occupied in making a highway from Lander to Louis Lake, a distance of eighteen miles through granite mountains, and such was their success that over six miles of the project was completed before the company returned to Oklahoma.
During the first month, the company had neither showers nor a mess hall, and were forced to bathe in the icy mountain stream near camp and to eat from their meat cans.
On June 15, two side camps were established, one at Duboise, Wyoming, a distance of eighty-five miles from the base camp, and the other at South Pass, which was sixty miles distant. Sixteen men occupied the former camp, and ten the latter; both were working at rodent control.
John G. Cook, Captain 76th F. A., relieved Captain Wilson on July 12, and assumed command of the two hundred and two men, which was now the total company strength, the company having been augmented by the enrollment of fourteen Wyoming L. E. M.'s.
Life in Wyoming was enlivened by the weekly dances held in Lander every Saturday night, and several "prospecting" trips. The solitude was broken to such an extent that very few of the members felt even the slightest pangs of home-sickness.
On September 30, 1933, sixty-five men were discharged at the expiration of their terms, and this brought the company strength down to one hundred and six men; eighty of whom were Oklahoma men, and twenty-six from Wyoming.
C. S. Gray, Captain Q. M.-Reserve, and Raoul P. Lopez, Second Lieutenant Infantry Reserves, were assigned to Company 875 on October 5. On October 15, the company was moved to Camp SP-4-0, at Lincoln Park near Oklahoma City, Oklahoma, where the men were barracked in winter quarters. During the winter of 1933-34, the company was put to work at rock quarrying, road building, bridge construction and tree surgery in Lincoln Park and in Hassman Park, about five miles from camp.
Company 875 was highly honored and pleased on December 15, 1933, when John G. Cook, who at that time was the Company Commander, was notified of his appointment as Commander of Sub-District "B" of the Oklahoma CCC. Captain Cook's splendid advancement left Captain Gray in command of the company, and he is still commanding officer at the present time. At present, Company 875 is located in Lincoln Park at Oklahoma City, on the west bank of the beautiful Northeast Lake. During the summer of 1934, the company will continue its greatly needed work of beautifying the parks and outlying country of the Oklahoma City vicinity.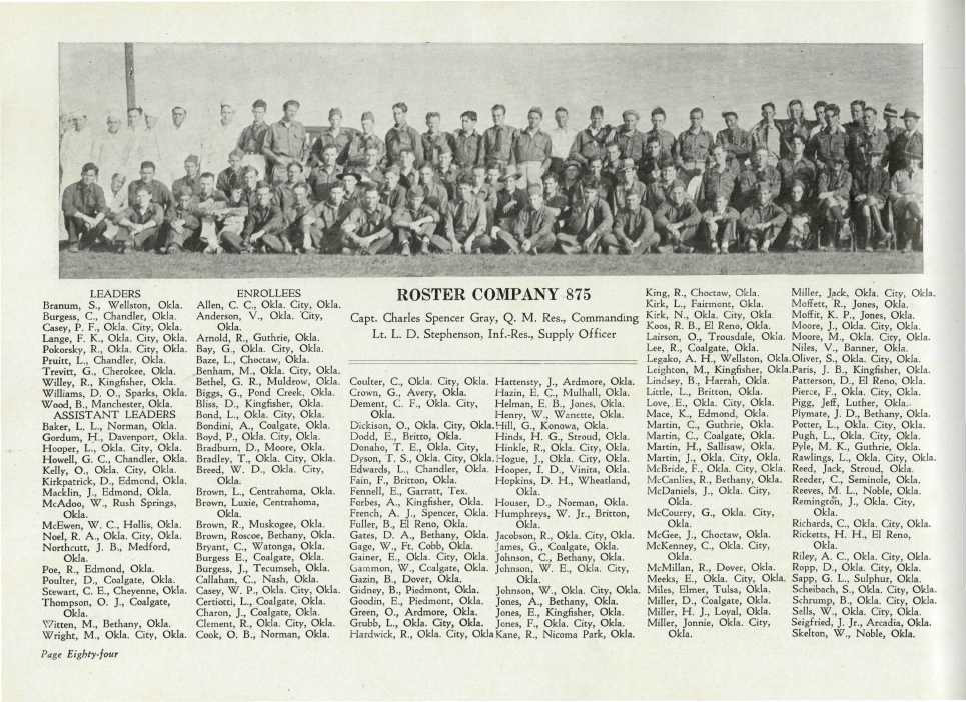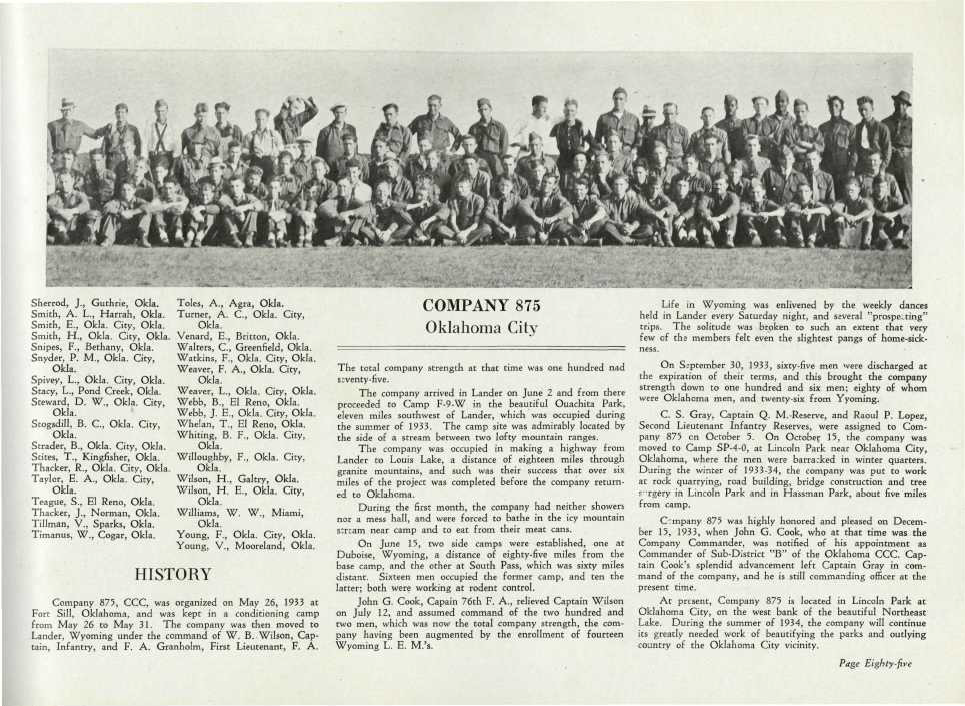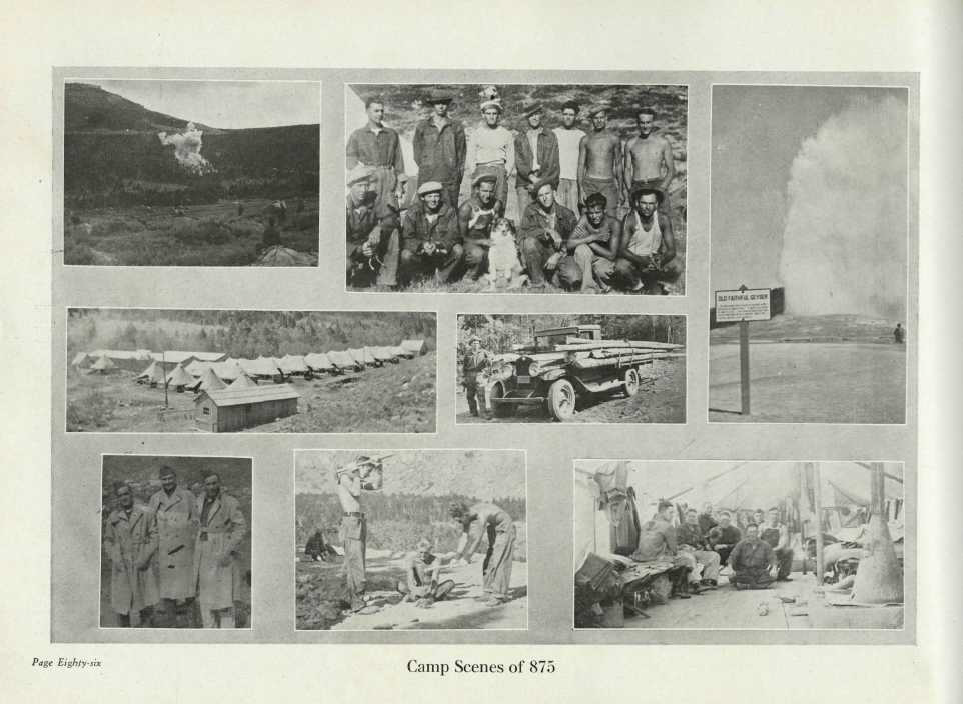 Sources
Oklahoma District Civilian Conservation Corps Pictorial Review, 1938, pages 84-86.