Pine Valley, Oklahoma
Copied from Oklahoma District Civilian Conservation Corps Pictorial Review, 1938, page 89:
CCC Company 899 was organized, at Fort Sill, Oklahoma on May 31, 1933, with the following officers in charge: Wallace E. Hackett, Captain Infantry, U. S. A., Commanding Officer; Second Lieutenant E. H. Eddy, 15th F. A.; Lieutenant Allen D. Donnelly, Medical-Reserve, Camp Surgeon; Sergeant E. Moore, 8th Attack Squadron, A. C , First Sergeant.
On June 3, 1933, Captain Hackett made a reconnaissance and selected the present site as the future home of Company 899. It is on the north bank of the Kiamichi River, three miles east of Pine Valley, Oklahoma, and among the Kiamichi Mountains.
The company arrived at its new location with its equipment on the morning of June 12th, and immediately commenced the clearing of trees and underbrush and spent the next few weeks in the building of the camp, including a mess hall, kitchen, water system, camp exchange and recreation room.
At this time an event occurred, saddening the hearts of the entire company, —the loss of Enrollee Roy White in an automobile accident which occurred when he was returning from a holiday leave, July 5, 1933. In his memory, the camp was thereafter known as Camp Roy White.
One August 2, Major William B. McCaskill, Medical-Reserve, relieved Lieutenant Donnelly as Camp Surgeon. At the end of the first enrollment period, sixty-three men were discharged, many to obtain employment elsewhere. Eighty-three new men joined the company at this time. Captain Hackett was relieved, Lieutenant Eddy succeeding him as Commanding Officer. Lieutenant William H. Witt, 380th Infantry-Reserve, and Lieutenant Ray D. Kinnard, 1st Infantry-Reserve, were assigned to the company about this time.
During November, construction was started on wooden barracks, a hospital, headquarters and supply room. First Sergeant Moore was relieved and was succeeded by Leader Raymond Tucker. On December 7, 1933, Lieutenant Eddy was succeeded by S. E. Bishop, Captain Q. M. C. Reserve, who is the present commander. Construction was later completed, and electric lights and water sewerage installed. The work of this company is probably heavier than that of any other CCC Company, as in addition to the building of fire trails among the mountains, a good road with few vertical curves now winds its way over the Kiamichi range to the south; thereby giving the eastern counties of the state a northern and southern outlet into McCurtain County and the Red River District. Lieutenant Witt was succeeded by Lieutenant C. B. Kenningon, 357th Infantry-Reserve, on April 15, 1934. The work accomplished by Company 899 under the able Superintendent, C. R. Berry, assisted by D. G. Ogilvie, rates high among the camps, and the heavy construction will stand for years as a monument to earnest endeavors of a sturdy, strong-hearted company. The third quarter saw forty-two men discharged, but they were soon replaced, so the company and its achievements will continue on and on.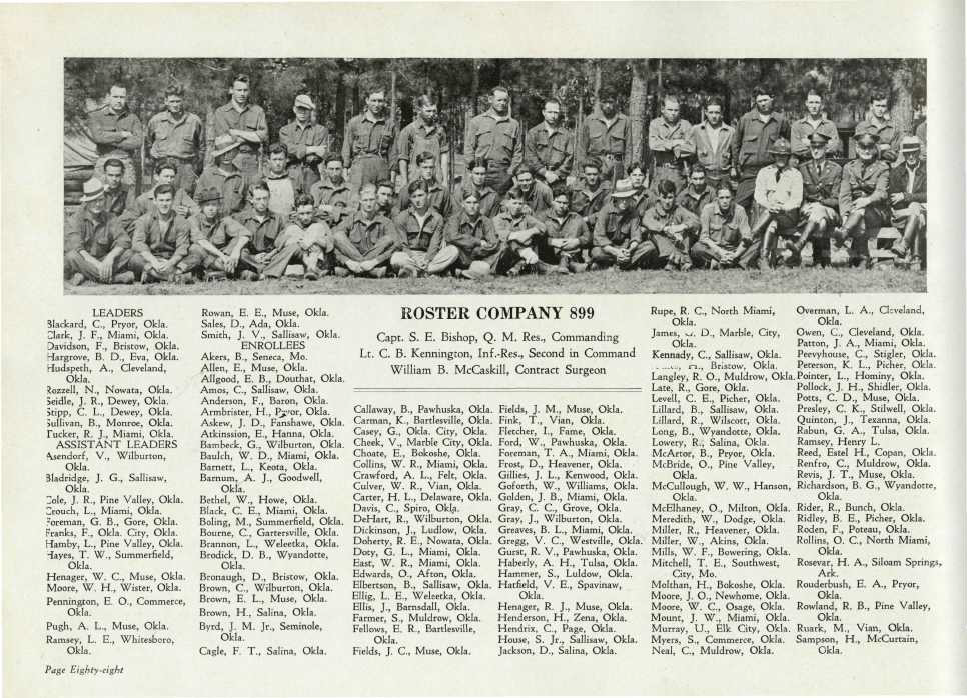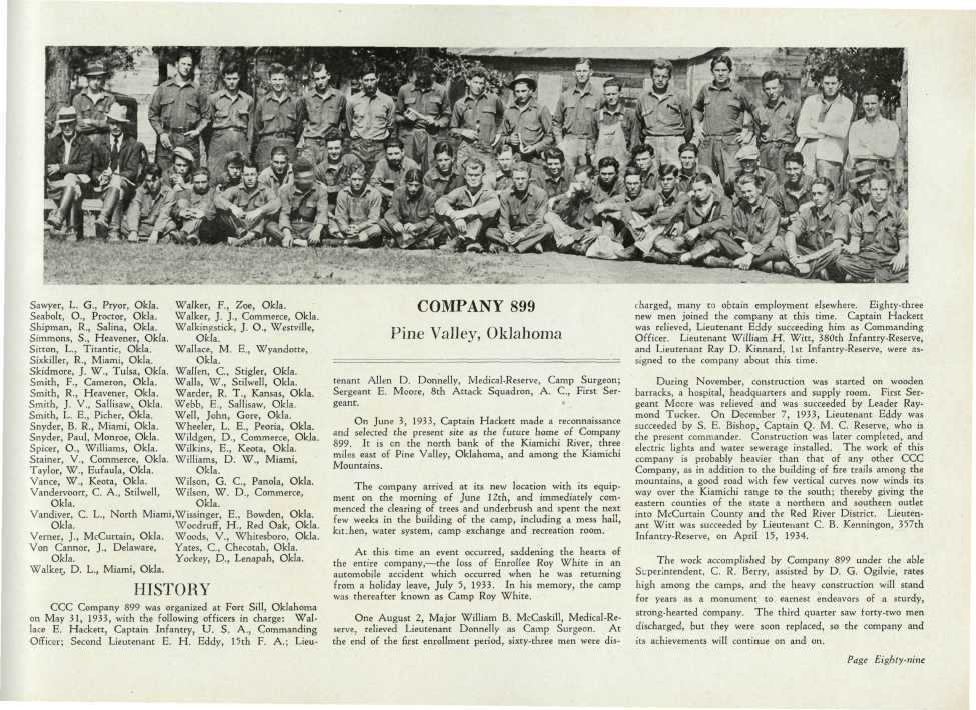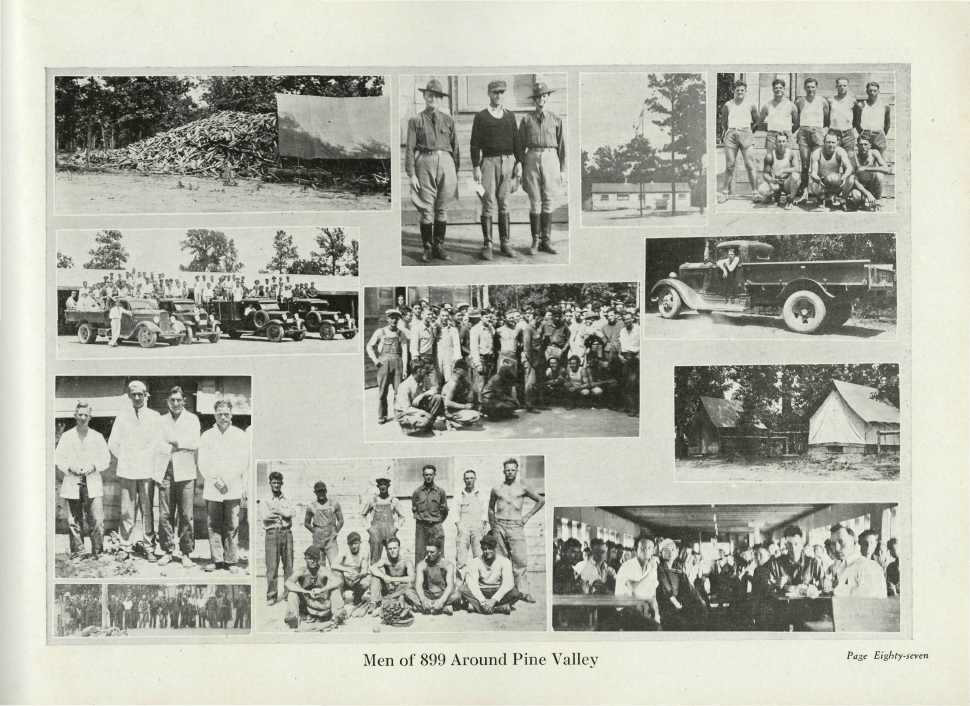 Sources
Oklahoma District Civilian Conservation Corps Pictorial Review, 1938, pages 87-89.