Description
McCombs Hall/Art Building
Bacone College
2299 Old Bacone Road
Muskogee, OK
Buffalo Hunt, by Stephen Mopope and James Auchiah, c. 1934 (tempera on masonite?)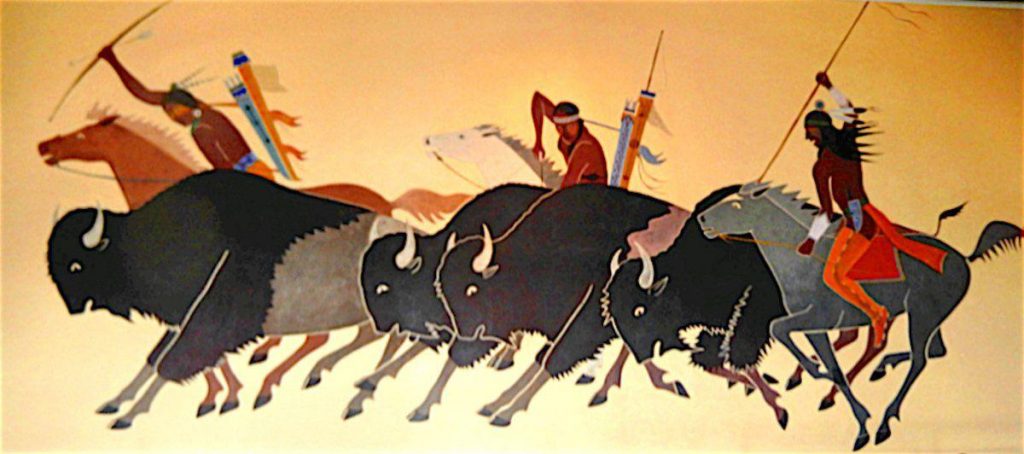 War Dance, by Stephen Mopope and James Auchiah, c. 1934 (tempera on masonite?)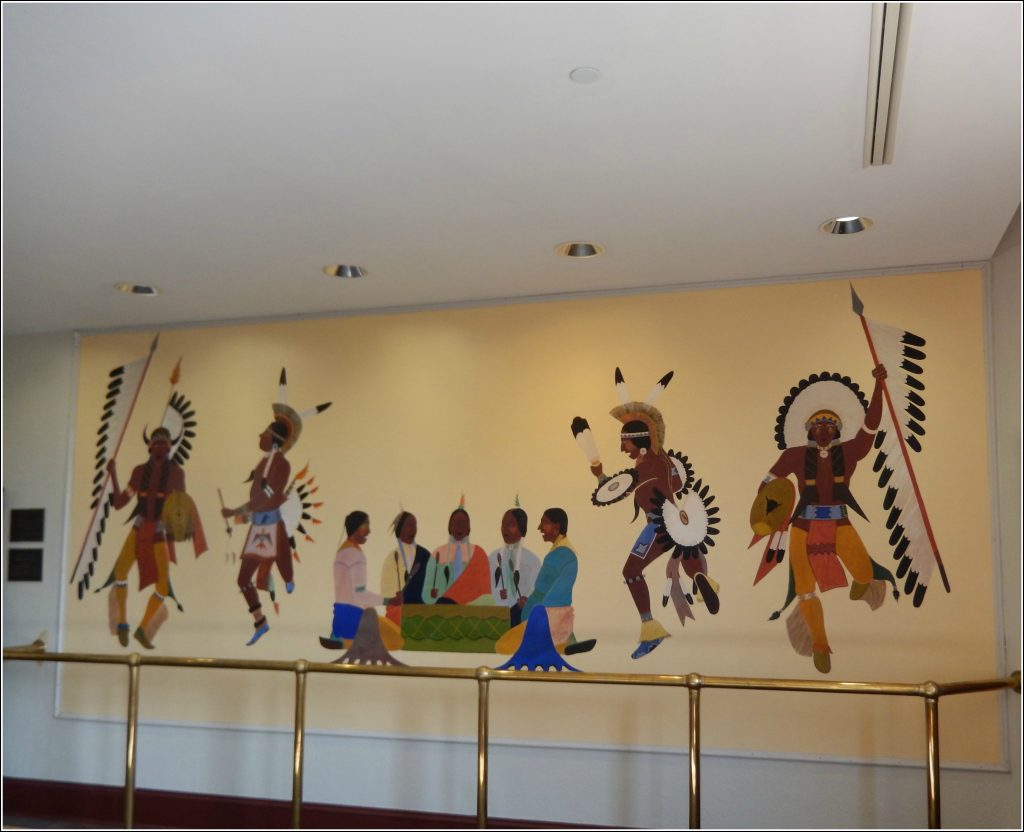 These two murals hang in the Art Building at Bacone College. Both were designed and painted by Kiowa Indian artists, and were funded by the Public Works of Art Project.
Buffalo Hunt, hangs on the wall in the stairwell between the first and second floors. War Dance hangs in the second floor hallway at the top of the stairs. Both murals are in good condition.
These murals do not warrant further study at this time because they have been moved from their original location. The murals were designed for the Office of the Superintendent of the Five Civilized Tribes Agency, once located in the Federal Building in Muskogee. Sometime prior to 1976 they were moved to Bacone College.
Palmer Center
Bacone College Campus
Muskogee, OK
Indian Pictorial Writing, by Acee Blue Eagle, c. 1973.
Sequoyah Teaching His Alphabet, by Acee Blue Eagle, c. 1973.
These murals are attributed to Acee Blue Eagle. He painted them in 1937. At this writing no conclusive evidence exists that identifies these murals as New Deal art. About 1973 Solomon McCombs made replicas of these murals because the originals were in poor condition. The whereabouts of the originals are unknown. The two murals that now hang in the Palmer Center gymnasium are the McCombs
copies.
Sources
Thematic Survey of New Deal Era Public Art in Oklahoma 2003-2004, Project Number: 03-401 (Department of Geography, Oklahoma State University)