Description
This one-story brick commercial building is designed in the Federal Revival style.It has a hipped roof and symmetrical facade. A limestone string course marks the first floor line and the windows are topped with wide limestone lintels. The wooden door surround consists of fluted pilasters and a dentilled molding.
The interior mural above the postmaster's door was designed and painted by Frank Weathers Long for the Section. It remains in very good condition and its depiction of the land run highlights a classic theme in Oklahoma history. This property could easily be a contributing resource to a historic district, and merits further study because of its association with New Deal art.
Oklahoma Land Rush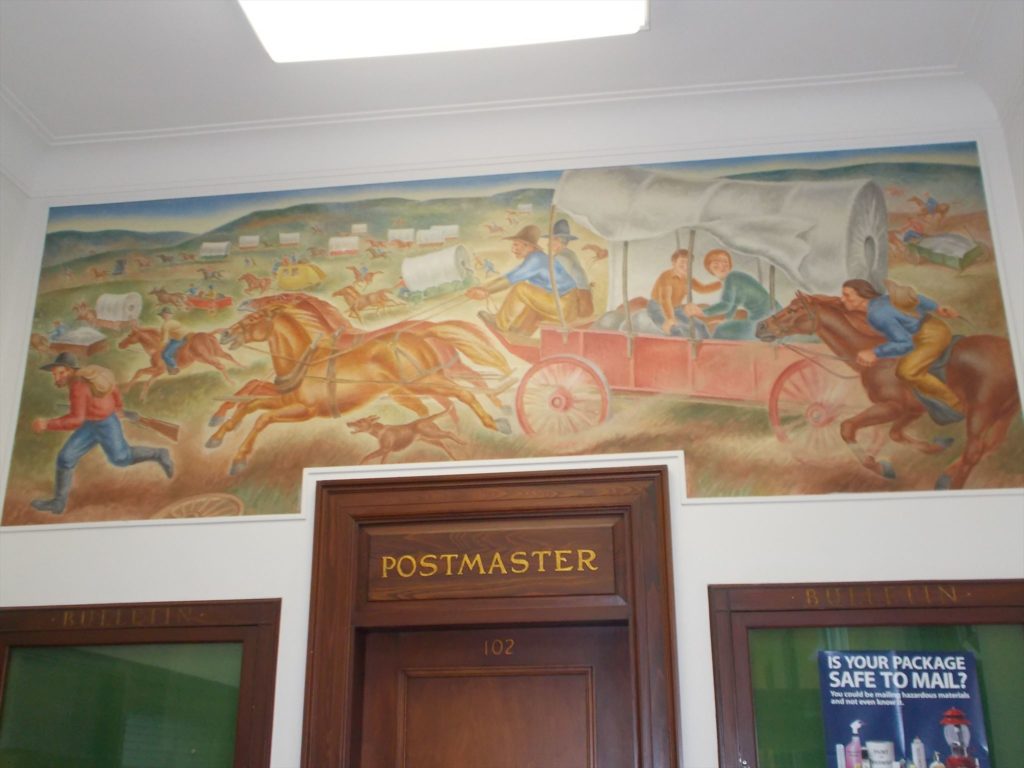 by Frank Weathers Long, 1941, oil on canvas.
Although Long had completed several public murals by 1941, the award for the Drumright commission left him bemused; he chose the 1889 land rush, a favorite among New Deal artists assigned to the state, simply because he could think of no other subject.[2] Stylistically, Oklahoma Land Rush shows the subtle influence of styles such as Post Impressionism, with the bright, pastel coloration and the naive simplification of form. The stylized shading results in a somewhat tubular interpretation of forms that is subtly similar to the machine imagery of Precisionism and the paintings of French cubist Fernand Leger.
Long adopted the familiar convention of the chaotic westward race for Oklahoma Land Rush made famous by published imagery of the run. The foreground depicts the various forms of transportation by which the runners sought out their claims: human locomotion, covered wagon, and horse. At far left, a sole runner, pursued by a dog, carries only a few meager possessions. A family in a covered wagon follows quickly behind him, although their speed threatens to wreck the family and their possessions. The canvas cover has torn away to reveal a mother and her son clutching the supports as the wagon bumps over the rough Oklahoma terrain. Both nervously eye the horse and rider that will soon overtake them. Long creates in the foreground a vignette of the entire run and similar scenes may be found in the sweeping background. The artist perceptively included elements of chaos and violence in Oklahoma Land Rush at various points throughout the composition, perhaps in recognition of the sensational reports found in the contemporary press. The rifle held by the runner in the foreground may be used for hunting but may also provide for defense of his claim. A stray wagon wheel just behind him indicates a previous breakdown, an incident repeated in the middle ground at right. Despite these ominous touches, Long's Oklahoma Land Rush presents a view of state history and an event that produced the eventual founding of Drumright.
Sources
Thematic Survey of New Deal Era Public Art in Oklahoma 2003-2004, Project Number: 03-401 (Department of Geography, Oklahoma State University).
Frank W. Long, Confessions of a Depression Muralist (Columbia: University of Missouri Press, 1997),124.