Description
The Hollis post office is a one-story, cube-shaped building in the Art Deco style. Cladding consists of limestone and buff-brick. Limestone frames the entrance and flanking windows, while brick marks the facade ends. Three stylized wheat designs decorate the wall space above the entrance and flanking windows. These flanking windows may originally have been two separate entrances. Additional research is needed to confirm the dates and kinds of alterations to the building.
The mural on the interior north wall was painted by Lloyd Lozes Goff after winning a Section commission. The mural is in good condition and, like the post office, warrants further research to determine eligibility for listing in the National Register.
Mapping the Trail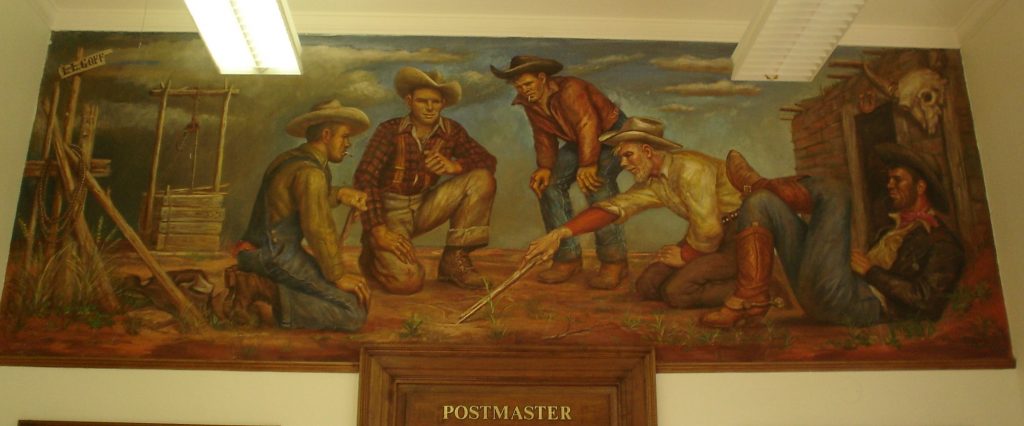 by Lloyd Lozes Goff, c. 1941, oil/tempera on canvas.
Goff likely painted Mapping the Trail during his early days at the University of New Mexico, and the naturalistic style of the mural indicates the influence of UNM professor Kenneth Adams, who painted recognizable imagery with subtle, nonrepresentation shifts in color. Though Goffs stylistic approach is fairly naturalistic, he does use intense color in the sky and soil and he occasionally mottles forms through the introduction of multiple colors. These touches of modernism are consistent with the general spirit of American Scene painting, which sought a focus on naturalistic imagery infused with some experimental techniques.
Mapping the Trail depicts five trail riders discussing the route of their cattle drive in the midst of their dilapidated camp. Their denim attire seems to mark them as early twentieth century cowboys, and the landscape with its rust-colored soil and light vegetation suggests the southwestern landscape of Oklahoma, although Goff may have used New Mexican terrain. The sod dwelling adorned with a horseshoe and a cattle skull offers contradictory messages of luck and the passing of life, respectively. With the coming storms in the background, Goff crafts an image of the uncertain life of the cowboy, often fraught with economic and environmental challenges. Cattle drives had become increasingly rare in the early twentieth century and the romantic cowboy that Goff depicts in Mapping the Trail had increasingly disappeared from the southwestern landscape during his lifetime.
Also referred as Planning the Route
Sources
Thematic Survey of New Deal Era Public Art in Oklahoma 2003-2004, Project Number: 03-401 (Department of Geography, Oklahoma State University)