Description
This is a one-story Art Deco style building with a symmetrical facade and buff brick cladding. The central portion of the facade is marked by limestone panels engraved with a train, plane, and boat. Recessed or beveled brick helps accentuate the windows and door. A narrow course of limestone coping tops the walls and encircles the building. A wider band of limestone forms a continuous string course at the base of what would be the entablature. The window space on the east end of the front elevation has been modified to accommodate an additional entrance and wheelchair ramp.
The mural, Cattle Days, was painted by Lew Davis for the Section. It hangs on the interior west wall and remains in good condition. The post office warrants further study because of its association with New Deal art.
Cattle Days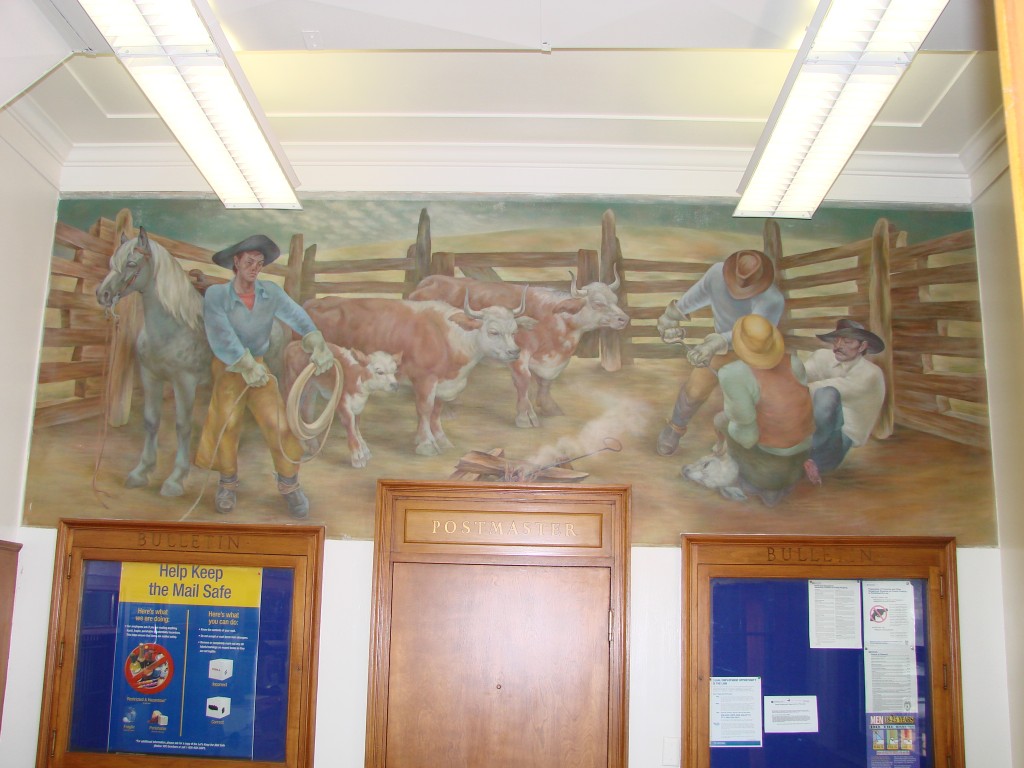 by Lew E. Davis, 1942, oil on canvas.

Davis's Cattle Days was one of the last murals completed under the auspices of the Section. Inspired by a renaissance painting the artist had seen at the Metropolitan Museum of Art, Cattle Days possesses the static, constrained composition common to Italian painting of the fifteenth century. Davis's style also indicates a careful attention to volumetric form and naturalistic imagery that recalls both renaissance painting and the style of his teacher, Leon Kroll. The careful arrangement of the compositional elements suffered, unfortunately, when faulty blueprints forced an alteration in Davis's design. A local paperhanger contracted to install the mural trimmed the bottom of the canvas to fit the space and eliminated most of fire pit, against the artist's wishes.5 Despite this technical fault, the subject matter of Cattle Days speaks successfully to the local history of Marlow, specifically the ranching culture of southern Oklahoma. Three cowpunchers brand a young calf while two steers and another calf look on sternly. At left, another cowboy coils a rope presumably used to lasso the calf at right. Cattle Days would have presented Marlow residents with an image of a recent past and an ongoing present.
Sources
Thematic Survey of New Deal Era Public Art in Oklahoma 2003-2004, Project Number: 03-401 (Department of Geography, Oklahoma State University)