Description:
This is one story buff brick building with basement. Designed in the Art Deco style, it has a simple, symmetrical facade with recessed, decorative brickwork on door and window surrounds. Inside the building on the west wall is a mural by Woody Crumbo. The mural remains in good condition, as does the post office building. The building is eligible for Ii sting in the National Register of Historic Places because of its association with New Deal art, and the Oklahoma Indian artist Woody Crumbo.
The Rainbow Trail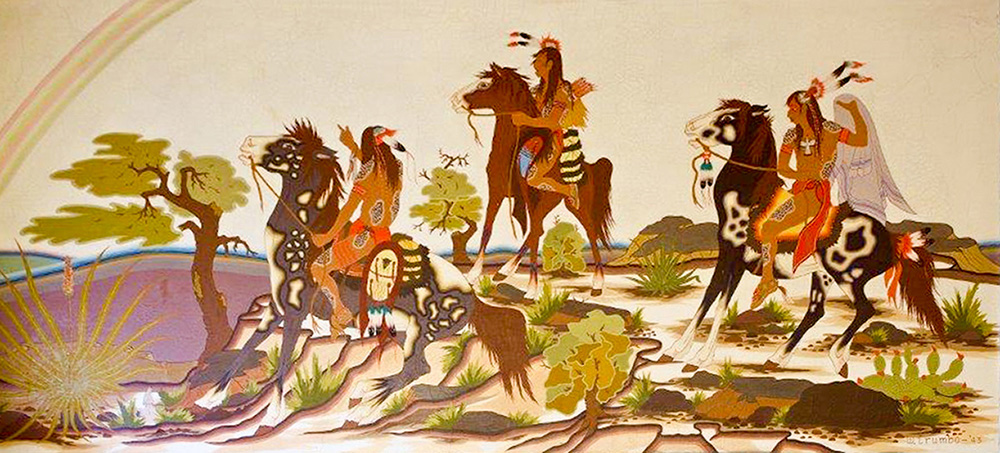 by Woody Crumbo. 1943 (tempera on canvas or plaster?)
Crumbo completed The Rainbow Trail for the Nowata Post Office in 1943, following the completion of his murals for the Interior Building and his resignation from Bacone College in Muskogee, where he had served as director of the art program. Like much of Crumbo's work, The Rainbow Trail depicts an image of nineteenth-century Plains life in the Traditional Indian Painting style. Crumbo's individual interpretation of Traditional Indian Painting incorporates the strong contours and bright, unmodulated colors used by contemporaries like Acee Blue Eagle. The tonal bands that line the contours add a decorative, stylized shading to the forms.
The riders depicted in The Rainbow Trail pause over a rough scrub of cacti and sagebrush, clearly startled by the appearance of a rainbow and the fantastical landscape indicated in the title. Crumbo's riders wear body paint and a sparse dress that would indicate a return from or the intention to battle.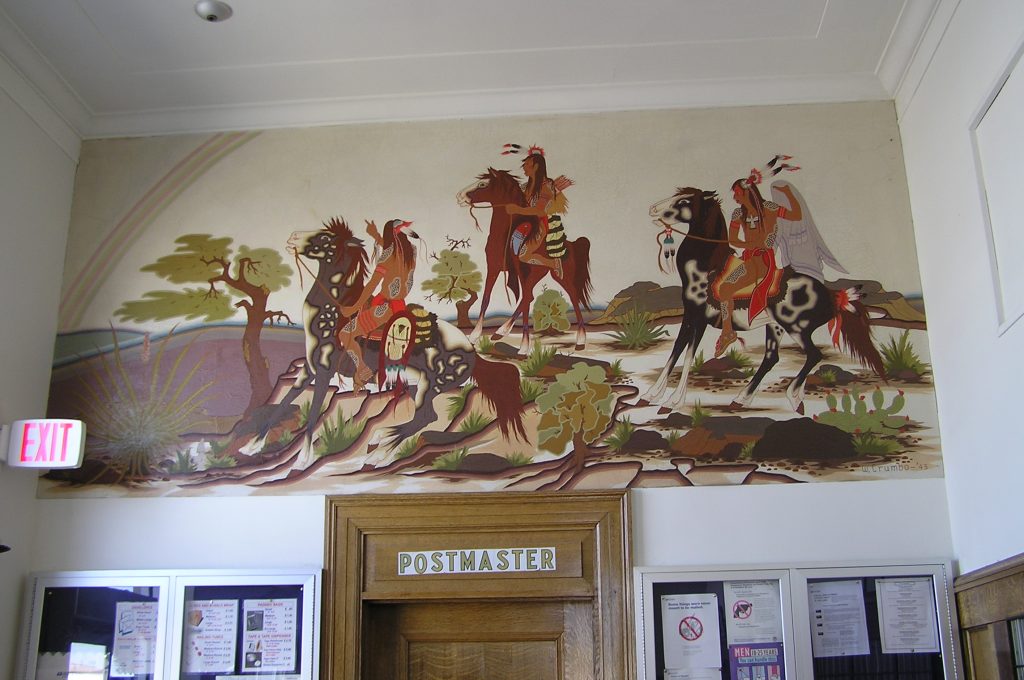 Sources:
Thematic Survey of New Deal Era Public Art in Oklahoma 2003-2004, Project Number: 03-401 (Department of Geography, Oklahoma State University).