Description:
This is a one-story buff brick Art Deco style building. A wide band of limestone encircles the building and is capped with a projecting cornice. A large cast iron eagle marks the entrance. Tall, triple-hung windows break up the wall space on the front and sides of the building.
Vance Kirkland's mural, The Opening of the Cheyenne and Arapaho Country, is inside on the south wall. Some of the paint along the bottom of the mural has begun to flake. Painted in 1940, this mural represents another Section project that brought art into America's small towns during the Depression.
The Opening of the Cheyenne and Arapaho Country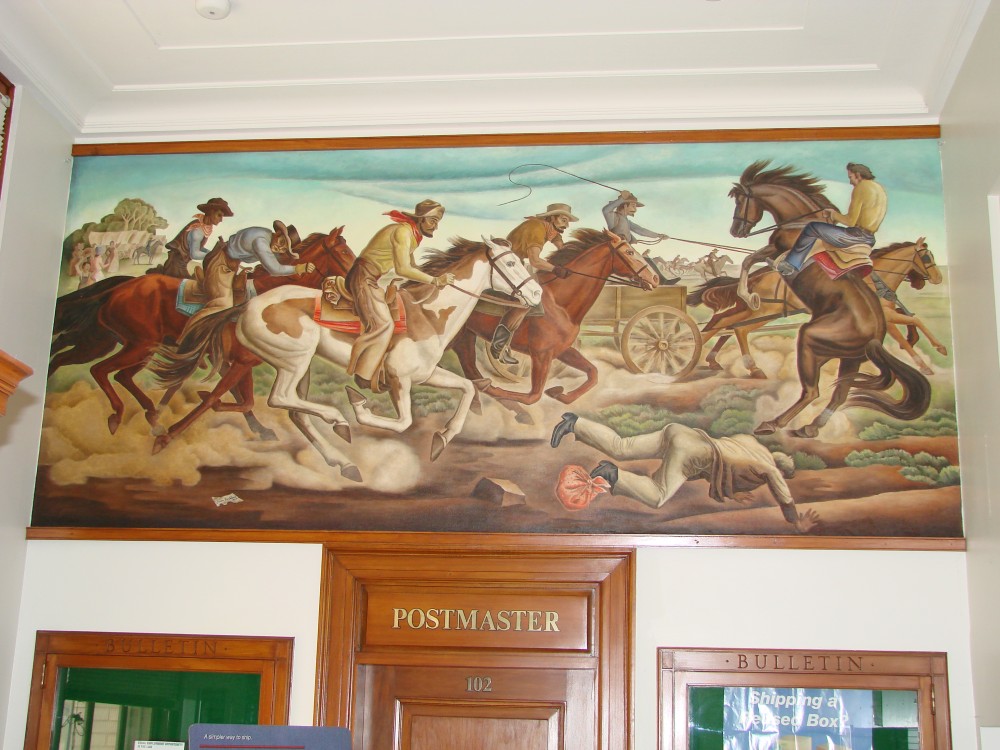 by Vance Kirkland, 1940, oil on canvas.
Kirkland first began painting murals in 1936 for private commissions and for city businesses. His first involvement with the Section in 1938 resulted in a commission for the Eureka, Kansas post office entitled Cattle Roundup. Shortly thereafter in November 1939, he received the commission for the Sayre, Oklahoma mural The Opening of the Cheyenne and Arapaho Country, which he completed the following year. Like many Section murals, it depicts local history, specifically the 1892 run that eventually gave way to the founding of Sayre.
The Opening of the Cheyenne and Arapaho Country depicts a familiar image of the land run as a chaotic, furious race of lone riders, wagons, and even pedestrians. Kirkland focuses on a series of individual riders in the foreground forced to confront the chaos of a rearing horse and a stumbling runner. The background reveals more runners as well as several stationary families and individuals at right. It is unknown whether these figures have arrived at their chosen plot of land or whether they are slow to embark on the run. Kirkland conveys his narrative through a naturalistic style subtly influenced by a planar approach to light and shadow that indicates a slight sympathy to abstraction. This amalgam of recognizable forms and traces of modernism is consistent with American Scene painting and anticipates Kirkland's future move to abstraction in the 1950s.
Sources:
Thematic Survey of New Deal Era Public Art in Oklahoma 2003-2004, Project Number: 03-401 (Department of Geography, Oklahoma State University)