Description
This is a one-story with basement Art Deco style building with buff-brick and limestone cladding. The symmetrical facade is balanced by two smaller wings that project on either side of the building. The words "United States Post Office" are carved in a wide band of limestone that encircles the tops of the walls and projects outward just slightly enough at the top to resemble a cornice. The facade is marked by four brick pilasters that separate tall windows. Inside the building there is a mural, Seminole Indian Village Scene, on the east wall above the postmaster's door. This mural was painted by Acee Blue Eagle as a Section project in 1939.
The exterior of building has retained its integrity, but the interior has been significantly modified in order to make the building more secure. In addition, one portion of the ceiling has been lowered, perhaps to accommodate heating or cooling ductwork. This has covered up a portion of the Acee Blue Eagle mural that decorates the east wall, though it does not appear that any of the figures in the mural have been covered. Because of this obstruction and because the mural has been restored, it is recommended for further study.
Seminole Indian Village Scene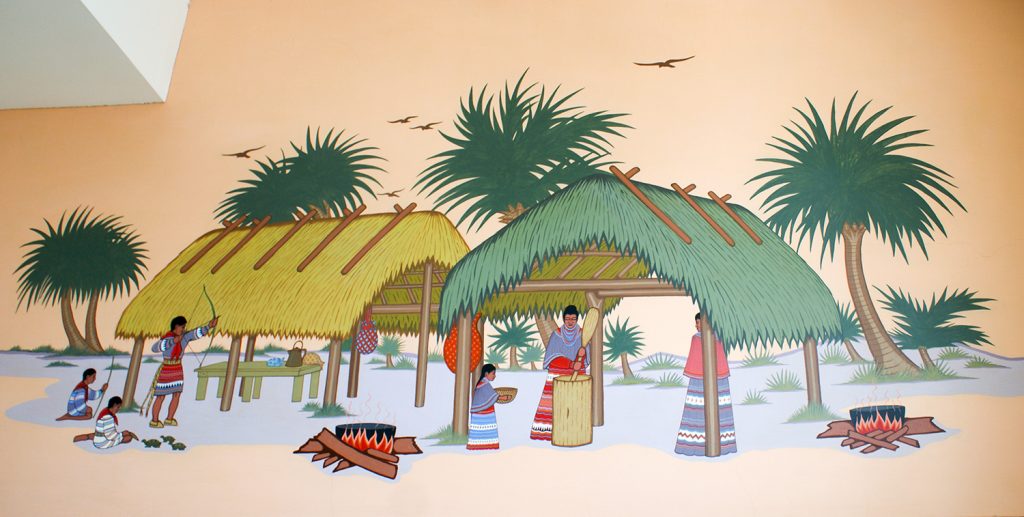 by Acee Blue Eagle. 1939, oil on plaster.
Blue Eagle's Seminole Indian Village Scene is a genre scene ideally suited to the Seminole Post Office, which lies within the Seminole Nation. The scene is not based on Seminole life in Indian Territory but in the traditional tribal home of Florida. The scene is dominated by women in a cookhouse chickee, a traditional Seminole dwelling with a roof of palmetto fronds. At left, a man and a couple of boys seem to test bows, since it is improbable that they would be hunting the birds at such distance or in camp. Men and women alike wear the characteristic patchwork clothing for which the Seminole became particularly well known. Seminole traditional life became a particularly popular tourist phenomenon in Florida during the 1930s, and it is possible that Blue Eagle's image offers both an affirmation of tradition and a nod to contemporary developments in Seminole culture. Blue Eagle's image of Seminole life had a profound influence on Creek artist Fred Beaver, who later restored Seminole Indian Village Scene in 1965.
Sources
Thematic Survey of New Deal Era Public Art in Oklahoma 2003-2004, Project Number: 03-401 (Department of Geography, Oklahoma State University).