Description
The Sulphur post office was also designed in the Art Deco style. It has a flat roof and the basement level is partially exposed. Cladding consists of brick and stone veneer. The stone frames the entrance and sets it apart from the facade ends which are clad in brick. A narrow course of stone coping tops the walls and encircles the building. Three low-relief carvings of wheat decorate the stone walls above the windows and door on the facade. Unfortunately, the attempt to clean the stone by sandblasting it some years ago did noticeable damage to it.
The interior north wall has a mural painted by Albert T. Reid in 1939 for the Section. The mural is in good condition and, along with the post office, merits further study.
The Romance of the Mail in the Old Cattle Country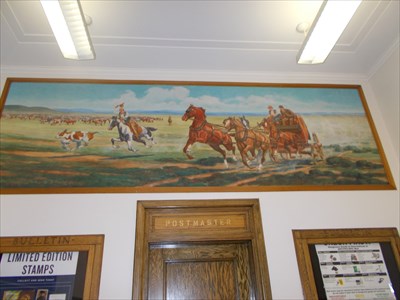 by Albert Turner Reid, 1939, oil on canvas.
The Romance of the Mail is a dynamic scene of a stagecoach racing across the foreground as a nearby cowboy pursues a frightened stray. The haste of both the coach driver and the cowboy almost prompts a disastrous collision and one of the coach horses rears in fright. Reid imagines the West as full of frenzied, gripping action to stimulate the viewer's interest in the history of the postal service. Such images of the West had been popularized in the early twentieth century by artists such as Frederic Remington and Charles M. Russell, and Reid seems to have emulated the latter in his interest to ranching culture. Like Russell, Reid also embraced a naturalistic style with clear attention to detail in dress and objects.
Sources
Thematic Survey of New Deal Era Public Art in Oklahoma 2003-2004, Project Number: 03-401 (Department of Geography, Oklahoma State University)