| | | | |
| --- | --- | --- | --- |
| Address: | 418 West Broadway Okemah, OK 74859 | County: | Okfuskee |
| Started: | | Completed: | 1941 |
| Agencies: | Treasury Department | NRHP: | No |
Current Usage:
Mural is still hung in the original building.
Description: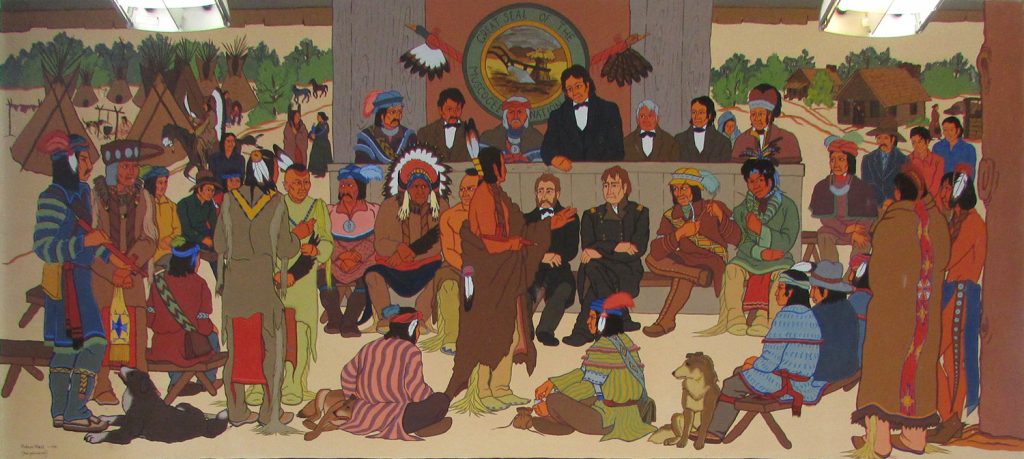 The post office contains a 1941 Section of Fine Arts mural "Grand Council of 1842" painted by Richard West.
This work is a work having a rather flat perspective by West depicting the Grand Council of 1842, probably 1843 which was a peace treaty between multiple Indian Tribes and Texas. The treaty was signed in March of 1843 and subsequently a Grand Council of representatives of the Delawares, CAddoes, Wacos, Shawnees, Ionies, Anadarko, Tawakano, Wichitas, and Kichai. The treaty was signed and then completed in September at Bird's Fort.
Richard West was born near the Darlington Agency in Oklahoma, attended the Haskell Institute, Bacone College, University of Oklahoma. The artists he studied with were Carl Sweezy, Acee Blue Eagle, Olle Nordmark, and Oscar Jacobson. He was the chair of the Art Department at Bacone College in Muskogee, OK from 1947-1970.
Sources:
Park and Markowitz, Democratic Vistas, Post Offices and Public Art in the New Deal, 1984.
http://www.newdealartregistry.org/
Supported Documents:
Photos: