| | | | |
| --- | --- | --- | --- |
| Address: | E. Main St. Idabel, OK | County: | McCurtain |
| Started: | | Completed: | |
| Agencies: | Treasury Department, Arts | NRHP: | No |
Current Usage:
Description:
The historic post office building in Idabel, Oklahoma was constructed during the 1930s with federal Treasury Department funds. It housed a New Deal mural that has since been re-located to a local museum. The original Post Office was replaced by a more modern building. Living New Deal believes that the building was located by East Main Street and is no longer there.
Mural: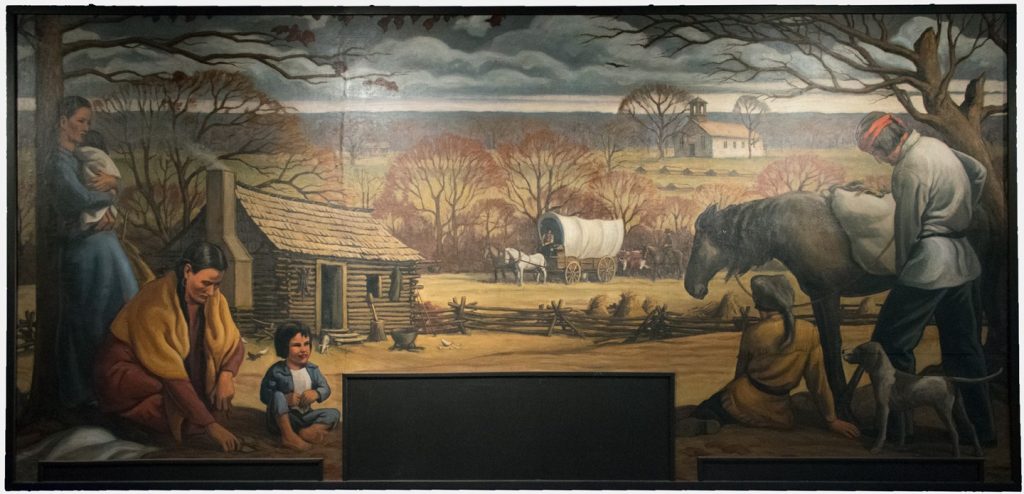 Artists: H. Louis Freund
The oil-on-canvas mural "The Last Home of the Choctaw Nation" was commissioned by the federal Treasury Section of Fine Arts. The work was completed by H. Louis Freund and installed in the lobby of the old Idabel post office in 1940. "It is today located in the Museum of the Red River on the south loop of Idabel."
Last Home of the Choctaw Nation depicts a Choctaw homestead in McCurtain County, ca. 1880. In the background is Wheelock Church and a Presbyterian Mission, which still stand in the western part of the county. In the front of the church are burial structures covering Choctaw graves. The mural serves as a reminder of the mixed success the Choctaw achieved after being removed from their homelands in the 1830s.
The painting was commissioned by the U.S. Treasury Department Art Project, a part of the Works Progress Administration (WPA), created during the Great Depression. The program ran from 1934 to 1943 and hired artists to decorate federal buildings. This mural was installed in the Idabel post office in 1940, above the postmaster's door. Note the niches at the bottom of the canvas, which accommodated a door and two bulletin boards. It was removed from the wall and mounted to plywood when the building was demolished. It briefly hung in the new post office but was given to the Museum in 1999. Cleaning on the paintings was completed in 2001.
The artist, Harry Louis Freund, was born in Clinton, Missouri. He studied art at the St. Louis School of Fine Arts, Princeton University and the Académie Colarossi in Paris, France. He chaired the art department at Steston University, was resident artist at the Hendrix College, and founded the Art School of the Ozarks. He painted six other murals for post offices in Kansas, Missouri, and Arkansas.[3]
Sources:
Museum of the Red River – Mural Reprinted with permission.
Supported Documents:
Photos: